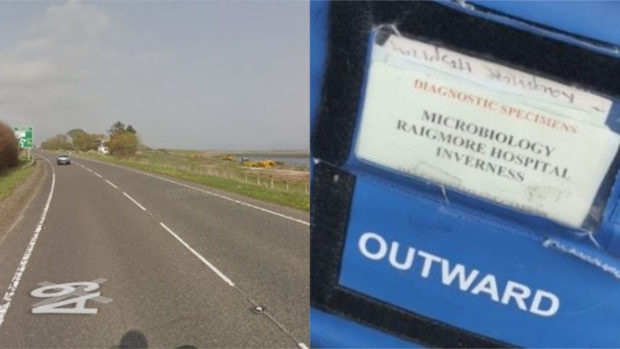 A man has described his shock at finding a bag containing Covid-19 samples lying in the middle of a main road in the Highlands.
Rikki O'Donnell said he opened the bag, which was covered in "high risk" tape and discarded between Dornoch and Tain, but quickly sealed it when he discovered its contents.
He then alerted Raigmore Hospital in Inverness, where the package should have been delivered, before dropping it off at a local police station.
NHS Highland has confirmed the bag and its highly-sensitive contents were being transported to Raigmore from Caithness General Hospital in Wick.
It has launched an investigation into the incident but said there was no danger to the public. It has now changed its system for transporting samples.
However local politicians have raised concerns about the matter.
Mr O'Donnell, 26, was driving with a friend from Dornoch to Tain on Monday evening when he spotted something in the road.
He said: "I saw a wee blue box lying there and picked it up. We had to stop to avoid running over it.
"I saw all the labels and high risk tape and that it was going to Raigmore Hospital so knew it must be important. I looked in the bag and saw packs and 'Covid-19' and just shut it again quickly."
He said after calling the hospital he took the bag to Tain police station.
He added: "I spoke to an officer through the buzzer. No one came to get the box from me so I just left it at the door and walked away.
"I heard later that there was no danger to the public because it was all contained. But what would have happened if a lorry had run over it? Then, would it have been a danger to the public.
"It could also have been a massive data protection issue as people's names and details were there."
A NHS Highland spokeswoman said: "The investigation is still ongoing and we are able to confirm that the samples were being transported by an NHS Highland motor vehicle travelling from Wick to Inverness.
"With immediate effect, all specimen bags are to be carried in cages within the main cargo area of the vehicles in our transport fleet to avoid a similar incident happening again.
"We would like to reassure members of the public that at no point was there a risk to the public from these samples. They were packed properly and remained intact. They are now with the laboratory team at Raigmore.
"All staff involved with this investigation are being supported as we learn from the incident.
"We would also like to thank the team from Highlands and Islands Blood Bikes who helped us during this incident."
A police spokesman said: "Police Scotland will support NHS Highland with any inquiries in relation to this matter, if necessary."
Caithness, Sutherland and Easter Ross MP Jamie Stone said he is seeking details of what happened and what systems have been put in place to ensure a similar incident does not happen again.
"I am absolutely appalled that the personal details of my constituents – and their right to confidentiality – has been breached. Imagine if your name was splattered across one of those samples and how exposed you would feel.
"It's truly horrific. Goodness knows, times are bad and terrifying enough without this sort of incident taking place.
"NHS Highland have been quick to set up an investigation, which I am grateful for, but I urge them to ensure that it is thorough and transparent. Everyone in our community needs to know what happened."
Local councillor Derek Louden said: "It's very worrying. How you could lose a sample is beyond me. But thank you to the individual who had the good sense to realise the significance of what they found and made sure it was put back into the system. It was a brave thing to do.
"I feel sorry for the people who were tested and were waiting for results. There has to be a proper system for tracking tests."
Councillor Alasdair Rhind also called the incident "very serious" and "utterly disgraceful".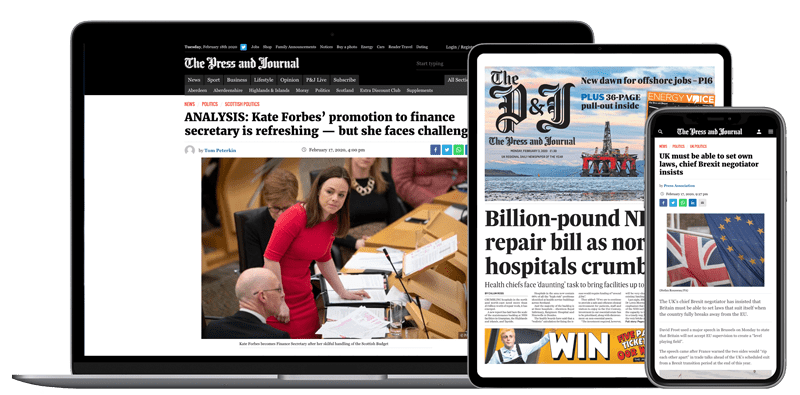 Help support quality local journalism … become a digital subscriber to The Press and Journal
For as little as £5.99 a month you can access all of our content, including Premium articles.
Subscribe