Planning permission was refused yesterday for a windfarm that could have earned an MSP millions of pounds.
RWE Innogy wanted to erect 15 turbines at Ardchonnel Farm, by Loch Awe in Argyll.
The 3,500 acre estate is owned by Conservative MSP Jamie McGrigor, who stood to earn more than £8million if the 364ft structures went up.
Mr McGrigor, who is his party's environment spokesman, stood to earn more than £8million if the 364ft turbines went up.
But Argyll and Bute Council planners recommended that permission for Ardchonnel Windfarm be refused, on the grounds of adverse visual impact.
Residents of the nearby village of Dalavich said the turbines were too big and would create too much noise.
At a special hearing of the council's planning committee held in Ardrishaig public hall yesterday, senior planner Richard Kerr said: "The proposal is inconsistent with the development plan due to its adverse landscape, visual and cumulative impact on the landscape setting of Loch Awe."
Jean Gaillard, renewables developer with RWE, said: "The views are confined to the area around the loch and are very limited beyond that.
"I have been overwhelmed by the support we have had from local businesses. Argyll is reliant on business tourism.
"This part of Argyll and Bute cannot survive on views alone. We are looking at an estimated £46.7million total investment, £20million spent during operation and maintenance phases, £17.6million in business rates to Argyll and Bute Council, £5.6million community benefit funding and £3.5million during construction."
Mr McGrigor did not make any comment following the decision, but during the hearing he said: "I think turbines can be part of the scenery and tourism goes on just the same. I see the income from the turbines as a great opportunity to enhance the sustainability of Ardchonnel Farm for generations to come."
Councillor Donnie MacMillan said: "As much as I would like to approve this application, it is totally against our planning considerations, we can't find a competent amendment. Employment and financial community benefits are not planning considerations."
Moving to agree the planners' recommendation, planning committee chairman David Kinniburgh said: "They are just too big for the area they are proposed to be in."
Speaking after the hearing, Dalavich resident Mark Potter-Irwin said: "We are not against renewable energy, this is just the wrong site."
RWE Innogy were unavailable for comment.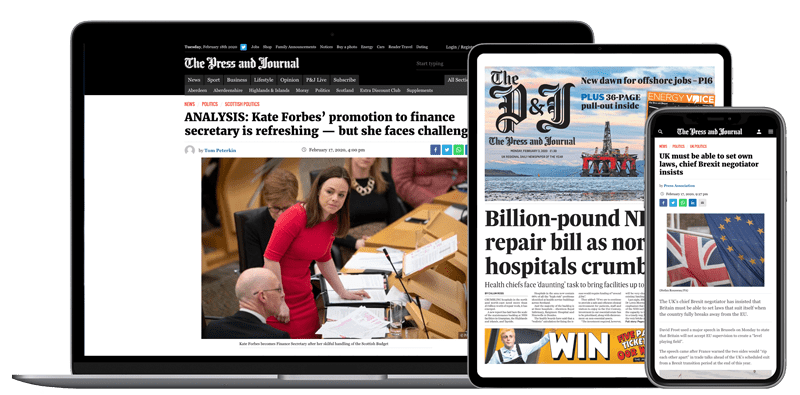 Help support quality local journalism … become a digital subscriber to The Press and Journal
For as little as £5.99 a month you can access all of our content, including Premium articles.
Subscribe