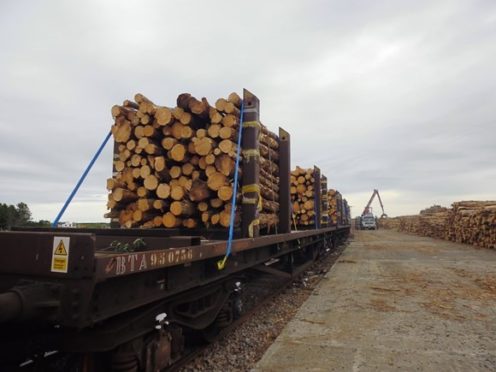 A six-week trial to free up road space by transporting timber through the Highlands by rail has been launched.
The project, which will remove 250 lorries from the road and do away with about 55,000 miles of travel, will help the environment and relieve the frustrations of motorists who can find themselves stuck behind the vehicles.
The Scottish Government has allocated £195,000 to Victa Railfreight to carry out the trial between Inverness and Caithness.
Up to three trains a week will be used, with each having the capability of moving around 6,000 tonnes of timber.
Jamie Farquhar, national manager for Scotland for forestry and wood trade body Confor, said:  "This is most welcome news, particularly as rail may be the only way to get some otherwise landlocked timber to market.
"Confor has worked hard for many years with the Timber Transport Forum to minimise the carbon footprint and impact of timber transport on rural communities – and rail can provide another effective option to do this, and to supply timber to our wood processing industry."
Anne MacKenzie, senior route freight manager for Network Rail Scotland, said: "We have worked proactively with the government and our freight industry partners to support the development of the trial which will accommodate the safe and efficient movement of timber on the rail network.
"We are confident that this trial will demonstrate that rail is a viable and environmentally sustainable way to transport timber and are delighted to have worked closely with our rail freight industry partners in supporting this co-operative venture."
Transport, infrastructure and connectivity secretary Michael Matheson hailed the move as a way of tackling congestion on north roads.
He said: "We have worked closely with the timber and rail freight industry to explore opportunities for modal shift and I am delighted to confirm funding for this rail freight trial which will remove around 250 lorries from our busy roads.
"We know that rail freight and modal shift to rail reduces road congestion, improves air quality and reduces emissions.
"The trial will help to demonstrate that the movement of timber in Scotland by rail is possible as well as efficient and it will provide confidence to both the timber and rail freight industries to develop permanent and sustainable solutions to meet market needs."