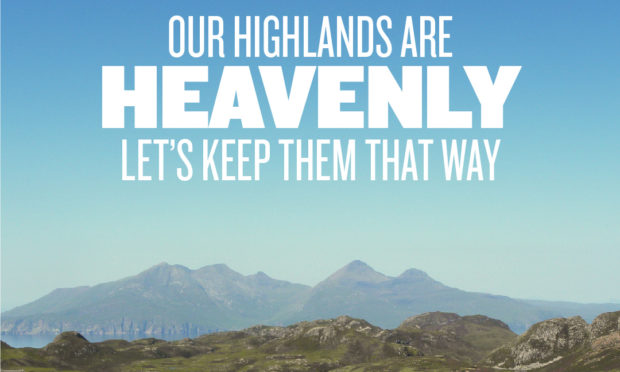 Highland Council is throwing its weight behind a national anti-litter campaign with the message 'Our Highlands are Heavenly-Let's Keep Them That Way'.
The council has created its own promotional material to support Zero Waste Scotland's own "Scotland is Stunning" campaign, which aims to inspire people to enjoy the outdoors without leaving litter.
The 'Highland is Heavenly' message will be used online and on posters at major tourist sites across the region.
Councillor Maxine Smith, chairwoman of the tourism committee, said with very few resources it will take some time to get everything in place for the 'new wave of staycationers'.
"We hope to receive further funding over the years to enable more things to be put in place, such as toilets and parking areas," she said.
"It is hard to keep up with demand.  So as long as there is a mutual respect between visitors and our land we will be content for now."
Councillor Allan Henderson said extra bins have been installed across the Highlands, with extra uplifts to try to keep the region pristine.
He said: "This is an opportunity to educate visitors in our country ways. Please leave nothing but goodwill."
A free downloadable campaign toolkit is available at managingourwaste.scot for the use of community groups and other local organisations keen to spread the anti-litter message to visitors.
Council leader councillor Margaret Davidson said that while visitors are warmly welcomed, they are asked to leave no trace.
And she warned the council can issue fines to those who do not respect the region.
She said: "People can report litter using the report form on the council's website at www.highland.gov.uk/report.
"We can issue a £80 fine for dropping litter.
"For fly-tipping, which is the illegal dumping of waste, we can issue fines from £200 to £20,000 or the offender can receive six months in prison, or up to five years if hazardous waste is dumped.
"Discarded waste can be a danger to young children and animals and it is estimated 80% of marine litter washing up on our beaches started out on land."