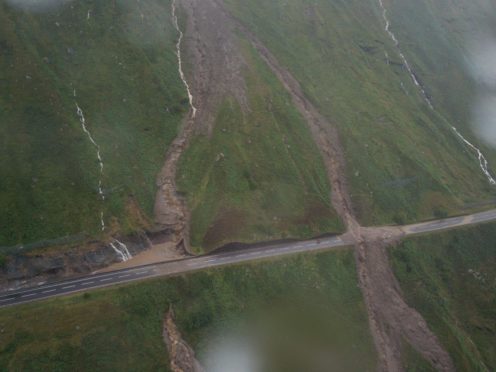 The Old Military Road is expected to reopen tomorrow as workers continue the clear up following a landslip at the famed Rest and Be Thankful pit stop.
Bear Scotland has been carrying out additional protection works today to get the route reopen pending further safety assessments.
Major clearance operations have been undertaken following Tuesday's landslip which exposed thousands of tonnes of debris and boulders the size of cars above the lifeline route.
Motorists have faced lengthy diversions of up to 60 miles to bypass the affected area as the usual diversion via the Old Military Road was also impacted by the large shift of debris.
Eddie Ross, Bear Scotland's north west representative, said:  "Since the large boulders were made safe on Thursday late afternoon, we've been progressing with clearing the Old Military Road and safe-guarding it with a view for a potential reopening mid-morning.
"We will only reopen the road if we are absolutely satisfied that it is safe to do so.
"As an added precaution we're in the process of constructing additional protection measures next to the roadside on the Old Military Road including a protective bund and channel along the edge of the road which will help redirect any excess material or water from impacting the carriageway."
Specific attention was being paid to the hillside yesterday as heavy rain was forecast.
Despite the lengthy delays, Mr Ross said "good progress" was being made on clearance and stabilisation work allowing the road operator to progress the design of the full repair solution.