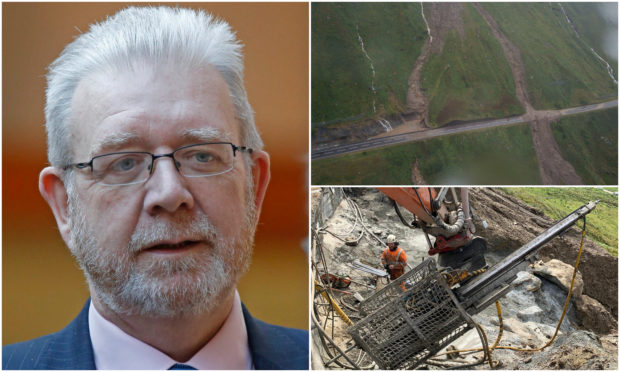 A problem spot on a west coast road frequently hit by landslips has been held up as an example of how climate change can wreak havoc on Scotland's transport network.
Argyll and Bute MSP Michael Russell yesterday welcomed support from the Scottish Government to find a solution to address the issue at the Rest and Be Thankful on the A83 Tarbet to Campbeltown route.
But Mr Russell raised fears that the problems which locals have put up with there could be experienced more widely across the nation as the changing environment affects weather patterns.
He said: "Climate change has exacerbated the problem with an increasing incidence of intense rainfall in a short period of time.
"Clearly that is going to be a major issue across the country and will have to be addressed.
"Whilst it is too early to tell what the precise cause was, it looks as if weather was in some way implicated in tragic events near Stonehaven.
"Learning as quickly as we can what solutions we can put in place and finding ways to do that are essential new skills we are all going to have to learn and apply."
Earlier this week, local leaders united to implore First Minister Nicola Sturgeon and Transport Secretary Michael Matheson to take immediate action after the road was closed following adverse weather.
They said it was "a miracle" that nobody had been "seriously injured or even killed to date".
An urgent meeting of the A83 taskforce was requested, which Transport Scotland has brought forward to August 27.
A landslip last Tuesday forced the closure of the Rest and Be Thankful, with the Old Military Route also being sealed off to motorists earlier this week due to fears over the potential for further debris to tumble down the hillside.
Approximately six tonnes of material shifted amid heavy downpours, with boulders the size of cars exposed.
Campaigners want a permanent solution to be found by the end of March 2021, with a view to work beginning next December and being complete by the end of 2023.
Mr Russell said: "I am very glad the first minister confirmed that a permanent resolution of the Rest and Be Thankful is a priority and that the transport secretary would be working to take the issue forward.
"Argyll and Bute is united and unanimous in insisting on a new road to replace the section at the Rest and that is now clearly going to happen.
"It needs to happen quickly too."
Repairs currently under way are expected to take up to three weeks to complete.