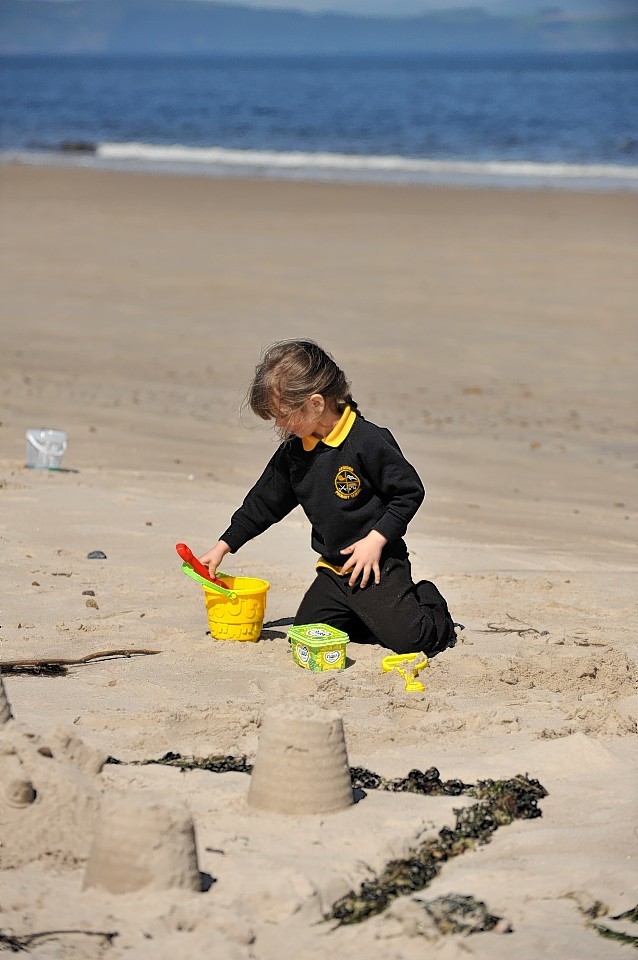 The Highlands was the warmest place in Scotland yesterday – and more good weather is forecast for the weekend.
Children paddled in the sea and holiday-makers enjoyed picnics on the beach as temperatures reached 20C in some parts of the region.
Very little wind and clear skies gave much of the Highlands and islands a taste of summer, with only the Northern Isles and the Caithness coast missing out on the sunshine.
And the Met Office was promising more of the same today.
The beach at Nairn proved popular with both locals and tourists, with children building sand castles and playing in the sea while the adults sat on the beach soaking up the sun.
And the warm weather brought more people out onto the streets of towns and villages across the Highlands, showing that the tourist season was getting well underway.
Met Office forecaster Greg Wolverson said the warmest place in the region was Lentran on the Beauly Firth, which reached 20C, with temperatures of 18-19C across most mainland areas.
He said Caithness and the Northern Isles were affected by coastal fog, which kept the temperatures down.
Mr Wolverson said: "We have got high pressure over Scotland at the moment, which is keeping the weather fine.
"Tomorrow will start with a nice, bright morning across most places, once any mist has lifted, with a slightly cloudier afternoon, particularly in the far west.
"Temperatures of 18C will be fairly widespread, with some places, such as Lentran, Aviemore and Drumnadrochit, likely to reach 20C."
He added that the wind would remain light today, but would begin to "freshen" tomorrow.
"Sunday will be another decent day further inland, but it will be a bit cloudier, with some outbreaks of rain, mainly in the far west.
"Temperatures will be around 14-15C for the islands and about 18-19C for inland areas on the mainland," said the forecaster.