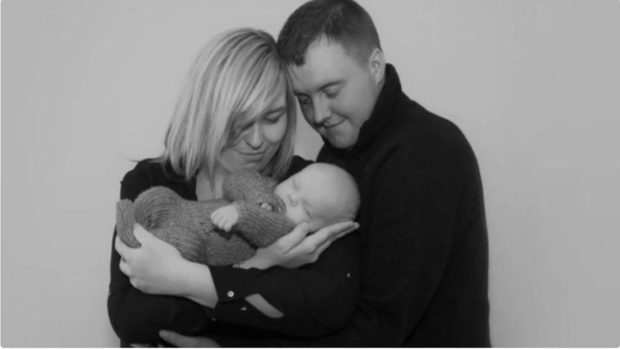 Friends of a gamekeeper who died in an accident last week have donated thousands of pounds to help his fiancée and baby son.
David Taylor, 27, died after falling from his quad bike while he was working on a Highland estate at Dulnain Bridge, near Grantown.
Police, ambulance and fire brigade teams raced to the scene but Mr Taylor was pronounced dead at the scene. A report on the incident will be submitted to the procurator fiscal.
He and his fiancée Christie McInnes, who have an 11-month-old baby, also called David, were due to be married next year.
Mr Taylor was also known as 'Wee Davie' as both his father and grandfather, also gamekeepers, have the same name.
His death shocked friends and colleagues in the gamekeeping community.
The GoFundMe memorial fund was started by Alistair Loder and Neil Brown, initially with the aim of raising £5,000, but later changed to £10,000.
By 5pm last night it had raised £10,020, with 105 people making donations, including one anonymous contribution of £2,000.
The tribute said: "David Taylor (Wee Davie) tragically lost his life in an accident on Tuesday, August 18.
"Aged only 27, Davie was a well-liked, hard-working gamekeeper with a cheeky sense of humour and a good friend to many.
"From an early age he had set his heart on following in the footsteps of his father and grandfather on the hill and was proving himself a credit to such a well-known and respected keepering family.
"Having only recently settled into a new job at Lochindorb, his future was assured in a profession he loved.
"Sharing his journey was his fiancée Christie and their handsome 11-month-old son David, who was the apple of his father's eye.
"David and Christie were already busy planning their wedding in 2021."
The tribute adds: "In order to bring something positive at this devastating time, we have set up a fund so that all of his many friends can show their support for Davie, Christie and wee David.
"Nothing can fill the gap left in everyone's lives by this unbearable tragedy but it will, we hope, allow as many people as possible to show their love and support for the family as they come to terms with this utterly tragic loss.
"All the funds raised will be used to support Christie and wee David both now and for their future."
The family tragedy is the second to hit Mr Taylor's parents. David and Katie, in nine years.
In April 2011 their daughter Sophie, 16, died in a shooting accident on the Glenavon Estate, near Tomintoul.
Sophie died when her boyfriend, Calum Murray, 18, accidentally discharged his shotgun. The young gamekeeper then turned the gun on himself.