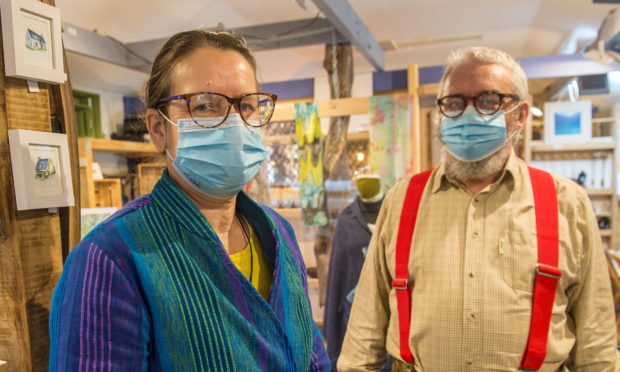 The behaviour of tourists ignoring Covid rules has driven a west coast business to shut its doors, potentially for the rest of the season.
Guy and Zoe Kerry have been running Lael Crafts Gallery and Coffee Stop some 10 miles south of Ullapool for the past six years.
They were within two weeks of opening for the season in March, when lockdown was announced; and once restrictions started to ease, they spent a month preparing to reopen on July 29.
Mr Kerry, 62, said: "We couldn't achieve the 2m distancing, but we could get it to over 1m.
"We got in screens, put in floor markings and put up explanatory notices.
"At first things went well with business coming back to around 80% of what it was last July.
"We noticed a younger clientele than previously, who would probably rather be abroad."
The Kerrys had to deal with visitors ignoring the notices, coming in in large groups, not wearing masks, not using the hand sanitiser, and not observing distancing.
Eventually the frustrations built up to the point this week where the Kerrys decided to shut their business and take stock before deciding if they'll open again this season or not.
If they do, the Kerrys say they will have to put up firmer notices, and be firmer.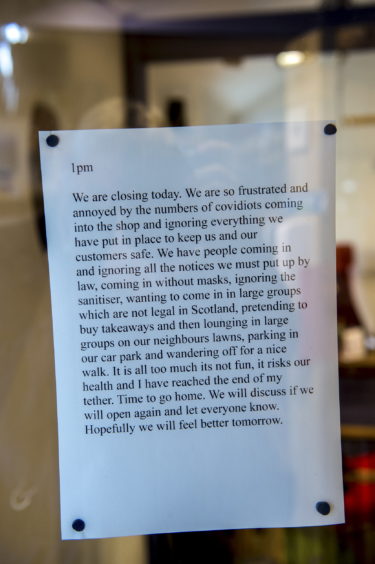 Mr Kerry said: "It's not our way to put up authoritative notices. We are having to be something different.
"But I have health issues and we have to protect ourselves and our customers.
"We've had to close our one toilet and keep dogs out.
"People have left in a huff.
"Like many other business owners in our area who are also getting frustrated and annoyed, we're between a rock and a hard place, but I'm not going against Scottish Government rules which I think are sensible."
The Kerrys are uncertain about the future and what it will bring.
Mr Kerry said: "We have had some government help, and as we were encouraged to do, we applied for universal credit.
"We were offered £9 a month each.
"We can only hope we can get through the winter and be allowed to open next season."