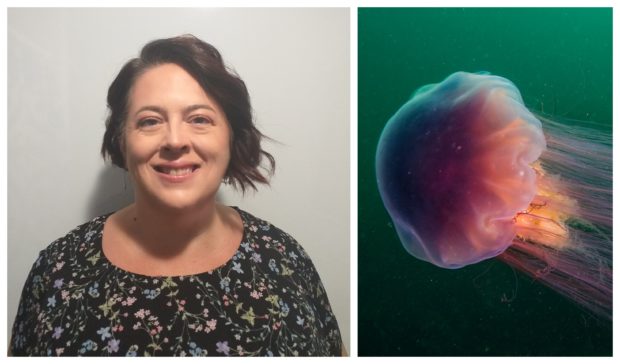 A woman was left minutes from death after suffering a severe allergic reaction when she was stung by a jellyfish while swimming at a north beach.
Libby Bligh struggled to draw breath as she went into anaphylactic shock after coming into contact with the 3ft Lion's Mane jellyfish.
She said that, had she not been with a friend who was able to rush her from the beauty spot near Nairn to Raigmore Hospital in Inverness on Saturday, she may have died.
The 50-year-old said: "If it had been a few minutes later, I would have stopped breathing."
Ms Bligh spent more than 24 under observation before returning home late yesterday afternoon.
The 50-year-old, from the Highland capital, last night told the Press and Journal that she was not even aware she had an allergy to the sea creatures until it was too late.
She said: "I was wild swimming at Whiteness secret beach when it happened very close to the shore.
"It was very painful as I started to drive back to Inverness with my friend, Agnes.
"But halfway back I started to feel very unwell and had to pull over after the turn-off to the airport.
"My friend Agnes took over the driving and within five minutes I was having a full blown anaphylactic reaction.
"She got me to Raigmore accident and emergency just in time as I was struggling to breathe."
'If I had been on my own, I might not be here to tell the tale.'
The north woman, who is the chief executive of a social enterprise company called The Libertie Project, added: "The A&E staff were amazing and gave me emergency drugs through my trousers into my thigh, and then intravenously, to reverse the anaphylaxis."
She stayed in hospital overnight in case she developed a secondary reaction after the drugs had worn off.
Ms Bligh said: "Anaphylactic reactions to jellyfish are extremely rare and I had no idea I was allergic to them until now.
"I am asthmatic and took up wild swimming during the lockdown with friends, following the proper guidelines.
"I did not realise I was going into anaphylactic shock because I was wheezing, and thought it was down to my asthma.
"Thankfully my friend Agnes took control and drove like a rally driver to get me to hospital for treatment.
"I've posted a warning to the Highland dippers Facebook page to warn fellow wild swimmers but I would hate for anyone else to go through what I've been through, and to remind people how dangerous these jellyfish can be.
"If I had been on my own, I might not be here to tell the tale."
Anaphylaxis can is caused when the immune system releases chemicals that flood the body in response to a severe allergic reaction.
It causes people's blood pressure to suddenly drop and their airways to narrow, possibly blocking normal breathing.
If it isn't treated immediately, it can result in serious complications and can even be fatal.
'True' jellyfish species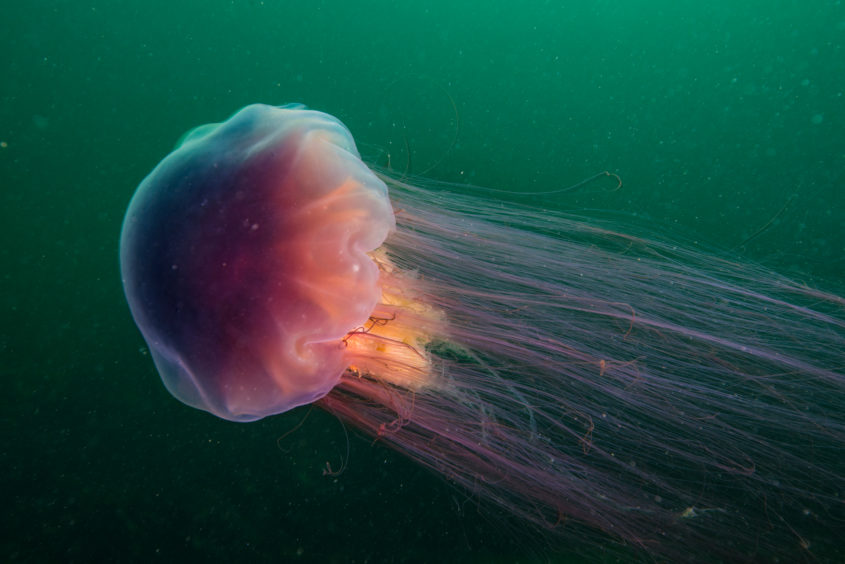 Allergic reactions to jellyfish stings are unusual but can cause swelling, chest tightness, difficulty breathing and anaphylaxis in the worst cases.
There are six species of so-called "true" jellyfish in UK waters, including the Lion's Mane.
These are one of the larger of the species and prefer colder water, particularly in the north of Wales and the north of Scotland.
Their frilled bell is a reddish-brown colour and can reach up to six-and-a-half feet in diameter.
They have multiple tentacles which can themselves reach for  between 33 and 66ft and provide a painful sting, even after they break off the jellyfish and drift in the tide.
The sting is described as a feeling like an electric shock and they are one of the species where people can also have an allergic action.
Most jellyfish stings result from swimming into jellyfish, wading into them in shallow water, walking on them on the beach, or attempting to handle them.
Swimmers are at the greatest risk with most ocean distance and endurance swimmers regularly experiencing repeated jellyfish stings.
The initial intensity varies from something like a nettle sting to something like a sudden burn to the skin, although man-o'-war stings can then become more sore before the pain settles down.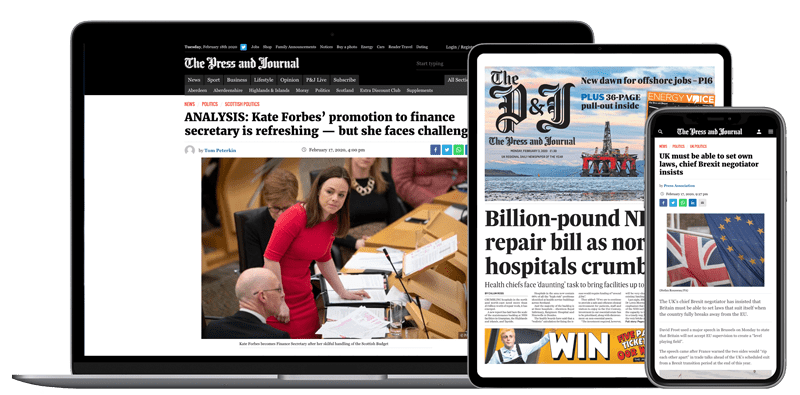 Help support quality local journalism … become a digital subscriber to The Press and Journal
For as little as £5.99 a month you can access all of our content, including Premium articles.
Subscribe