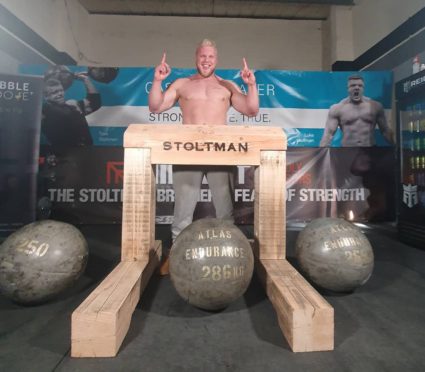 Downhearted Invergordon strongman Tom Stoltman conceded it "was not meant to be" as he failed to secure a new world record, but he already has his sights set on a new goal.
The Ross-shire athlete attempted to lift the world's first 668Ib (303kg) Atlas stone to notch up his third world record of the year.
During the live-streamed event, the 26-year-old, whose prowess has earned him the nickname "king of the stones", failed to set a new bar.
But taking to social media in the aftermath, the north athlete said he is "hungry" to end the year on a high.
He said: "Can make up excuse after excuse, but I hate making excuses. It just was not meant to be today.
"World's Ultimate Strongman have given me something to focus on through this pandemic and I'm thankful for the opportunity.
"Records are nice but I'm hungry for titles so I'm ending this year with a bang."
Mr Stoltman is now aiming to compete in the World's Strongest Man (WSM) contest in November.
He added: "For now, I am going to get myself ready for my biggest WSM to date.
"We have a great bunch of British guys going over this year and I'm very excited to see what happens in November.
"One thing I promise is I'm going work harder than ever to be the full package this year and go for that top spot."
Earlier this year, the strongman opened up about his Autism and discussed how embracing the gruelling challenges had boosted his mental wellbeing.
And despite the recent setback, Mr Stoltman says he hopes he has inspired others to strive towards greatness.
The athlete said: "Just a guy brought up in Invergordon – and who would have thought 26 years ago I'd be saying I am one of the strongest people on Earth.
"I hope I have proved to everyone that people with Autism are not different and don't have a label.
"We are just as capable, or more, to become the best version of ourselves. I'm so proud in how far I have come as a person."