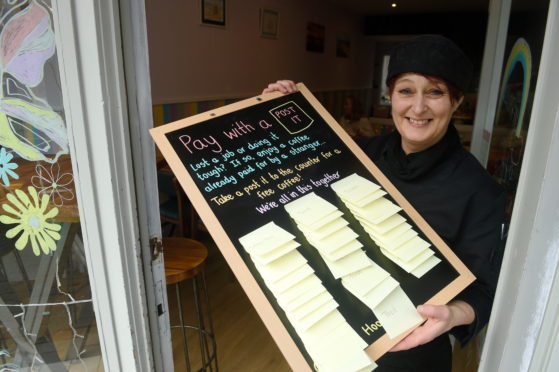 A Nairn cafe owner has spoken of her delight after her pay it forward scheme was welcomed warmly by the community.
Wendy Morton runs Wendy's Hoose coffee shop on the town's High Street and came up with the charitable scheme earlier this week.
Customers have the option to buy a product for those less fortunate than themselves.
They can pay for an item such as tea or toast, with that then written on a post-it and stuck on a board.
This can then be cashed in by another customer who may not be able to afford a warm meal or drink.
Miss Morton spotted the idea on social media at the weekend and decided to do her on version on Monday.
So far it has been a success, with £140 donated already.
This has led to four hungry customers being able to enjoy some free food and drink.
Miss Morton hailed the wonderful community spirit shown by Nairn residents.
She said: "I've received lots of interest so far and have checks being sent in from people who have heard about us and want to help out.
"It's aimed at everyone, from parents and kids over the school holidays who are struggling for money to those who have lost their job and can't afford to eat properly.
"The kindness of other people is the selling point of the scheme and we have helped four customers so far.
"One of those was a couple who moved to the area just before lockdown and could not find a job so they have used all their savings since then.
"It is wonderful to be able to help them."
As a single mother of four, Miss Morton knows how it feels to fall on hard times and wants to give back to the community as much as she can.
She added: "We've had so many post-it notes that the board is now full so they have to be put in a little pot beside it.
"I think this scheme offers a bit of hope during these testing times and its great to see the amount of people who have came in and donated.
"I hope the idea is picked up by other businesses as well.
"I will keep it going for as long as it is needed or until all the post-it notes are gone."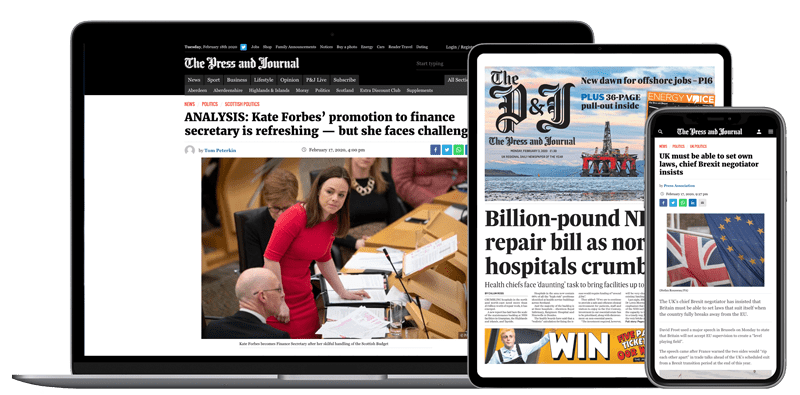 Help support quality local journalism … become a digital subscriber to The Press and Journal
For as little as £5.99 a month you can access all of our content, including Premium articles.
Subscribe