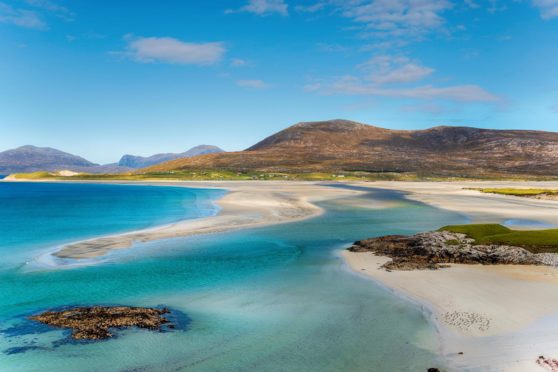 More than half the houses in an iconic island beauty spot are now holiday homes or self-catering cottages, with the number having increased by 15% in the last decade.
According to community landowners the West Harris Trust, 21 of the 38 properties built or that have planning consent at Luskentyre do not have permanent residents.
The trust is now seeking 'control area' status to help regulate the number of existing houses being turned into holiday accommodation.
There are fears the paucity of lived-in homes will contribute to making the community "unsustainable" as the attractiveness of the location prices islanders out of the market.
Last month, a renovated two-bedroom cottage on Luskentyre Bay with direct access to the famous beach was marketed as having "second home or holiday let potential" with an asking price of over £385,000.
It is believed to have sold for over £400,000.
The trust made a submission to the Scottish Government's consultation on short-term lets (SLTs), which ended last week ahead of proposed regulations in the spring.
These will mean houses used for holiday letting in control areas requiring planning permission.
Second-home ownership was a key factor in the formation of the West Harris Trust and the community buy out of land in 2010.
At the time, 40% of the area's houses were either holiday homes or self-catering cottages.
The trust's submission says: "As at today's date in the village of Luskentyre there are 38 properties built or have planning consent.
"However, only 17 (45%) are lived in by permanent residents, the balance (55%) being holiday homes or self-catering cottages.
"This shows that despite the best efforts of the trust, the percentage of non-resident houses has increased by 15%. In our view this position is not sustainable."
Neil Cameron, a director and secretary of the trust, added: "Where the percentage of holiday homes and self-catering cottages exceeds 50% it is not a sustainable level for any community.
"It is an issue throughout West Harris, but because Luskentyre is such an iconic place people want to live there and it has pushed property prices beyond any local demand there might be."
The trust supports crofters on the estate who have diversified into tourism and built self-catering accommodation to provide an income to enable them to continue to live in, or return to, West Harris.
It has also released land to build six houses for rent, and four under shared ownership, which has helped increase the population by 30% over the 10 years of community ownership.
"However the trust remains concerned that the ever increasing prices being realised for crofts and houses make it very difficult for young people to remain in the community", its submission said.
"It is hoped that this legislation can be used to keep existing houses under permanent residence rather than becoming holiday homes."
The Scottish Government plans to put forward the regulations giving local authorities powers to license short-term lets and introduce control areas in December, with the aim they will be in force by spring.
Within control areas, use of a house for secondary letting will be deemed to involve a material change of use and require planning permission.
At present it is dealt with on a case-by-case basis.
Independent research showed Airbnb listings in Scotland increased three-fold from just under 10,500 in April 2016, to about 32,000 in May 2019.
Earlier consultation found that while increased tourism provided local economic benefits, there were also negative impacts including congestion, significant demands on local infrastructure and changes to communities.