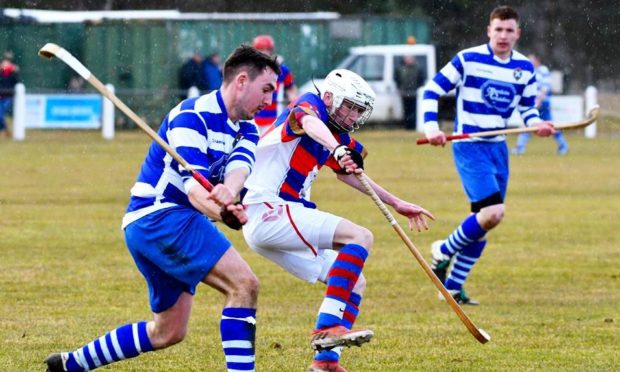 Having influenced culture in the region for hundreds of years, a new guide celebrating shinty's role in shaping the Highlands has been unveiled.
The Shinty Trail tells the story of the sport in Badenoch and its deep-rooted connections with the area which are still highly relevant to this day.
The fast-paced sport plays a crucial part in many people's lives and continues to thrive at the heart of many communities.
Developed by the Cairngorms National Park Authority (CNPA) with funding from Bord na Gaidhlig, the new guide covers 30 key heritage sites spanning from Laggan to Kincraig and encourages those interested to seek them out in person.
It also highlights the strong links between the sport and the Gaelic language, as music and dance have played a key role in the match-day experience for centuries.
At one time, many settlements along the length of the Spey all had shinty teams. The area is still home to two of the game's most successful outfits with the neighbouring Newtonmore and Kingussie Camanachd Clubs.
The Shinty Trail is available in English and Gaelic on the Cairngorms official website, as well as at the Boleskine Shinty Pavilion within the Highland Folk Museum in Newtonmore until the end of this month.
Bruce MacDonald, the CNPA's Gaelic intern who helped bring project to life, said: "The aim is to convey the significance of the sport to the heritage and culture of Badenoch, as well as its deep-rooted relationship with many other aspects of traditional Highland culture, such as the Gaelic language.
"Over the course of this journey, the origins of shinty and the development of the modern game can be explored, as well as the history of key teams in the area, both past and present.
"There is also the opportunity to experience important aspects of Badenoch's past, such as the Clan Macpherson, emigration, war, and early tourism."
An online event about the trail will be held on October 28 as part of the Badenoch Heritage Festival.
Shinty historian and broadcaster Dr Hugh Dan MacLennan, who has also contributed to the project, will talk guests through the resource.
He said: "The Shinty Trail will be a great asset to the community of Badenoch where shinty is such an important part of life and the cultural heritage of the area.
"It will be a huge asset to schools and other people wanting to research the history of the game and its importance to people young and old."