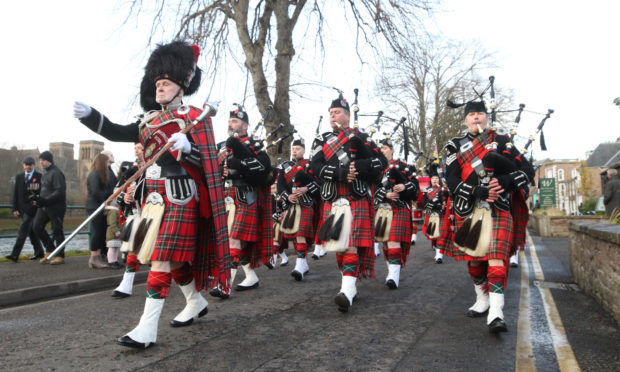 People across the north and north-east are exploring new ways of marking Remembrance Sunday next month.
Restrictions on social distancing and public gatherings have led to the cancellation of the usual scores of events which are attended by thousands each year.
Locals and veterans are instead being encouraged to observe the national two-minute silence and refrain from gathering at local war memorials.
Organisers from the Inverness branch of the Royal British Legion confirmed with "regret" the cancellation of the city's formal parade and wreath laying ceremony at Cavell Gardens.
It followed an announcement by Highland Council officials confirming no parades, events or services will be organised to mark the occasion.
The local authority asked people "to keep safe and 'remember at home'".
Deputy Provost of Inverness Bet McAllister is a regular attendee of the annual event, remembering the bravery of her ancestors during conflict.
Her grandfather fought bravely during the First World War but failed to make it home, and her uncle was killed when his plane was shot down in the Second World War.
She said: "I am quite sad but I do have my card all written out so I'll choose my time and go out on the Sunday morning.
"I really do feel for the people. There are one or two who have been in the war and sometimes they come along to the service.
"It's nice to see everyone there; we have all got the same kind of stories to tell. It's always so busy and I think it's actually got busier and busier over the last few years."
Staff and cadets from the 161 1st Highland Squadron in Inverness are now preparing to mark the occasion by hosting a private virtual service on Remembrance Sunday.
Cadets will give a series of readings before holding a two-minute silence.
A member of staff will then hold a private service on their behalf to lays wreaths at both the cenotaph at Cavell Gardens and the bandstand at Bellfield Park.
Commanding officer Flight Sergeant Neil Jack said: "Marking Remembrance is really important and something that we must always deliver."
In Lossiemouth, annual wreath bearers will gather at the war memorial to pay their respects on behalf of the community.
A quiet service will be held within Remembrance Hall at Aberdeen Art Gallery, with invitations being reserved for local officials including the Lord Provost, armed forces officials and council representatives.
Aberdeen councillor Jim Noble said: "It's important that people stop and think about people, their family and friends who have been in the Army and those who have died for their country on Remembrance Sunday."