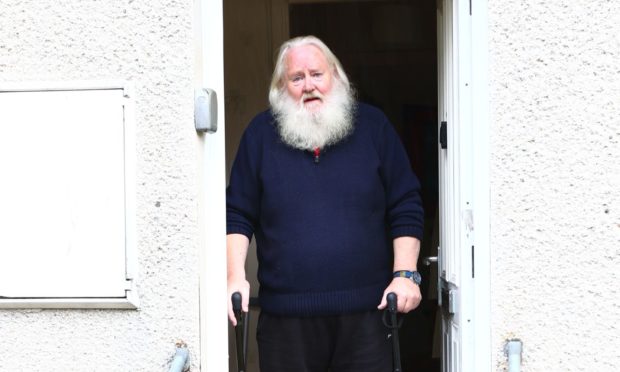 Elderly residents in Oban are refusing to let contractors into their homes for fear of Covid-19.
Argyll Community Housing Association (Acha) wants to install new central heating in more than 100 of its properties in the town.
However some of the residents have already refused to allow surveyors from Glasgow across the threshold.
And others have said they will not vacate their houses to make room for the contractors. Alternative accommodation is being offered by the social landlord.
Angus MacPhee, 71, of Lynn Gardens, said: "I have had two different surveyors from Glasgow, the hotbed of the pandemic, in the last few weeks. They weren't even wearing gloves.
"I am in the at risk category. Acha are gambling with my life. I have an 88-year-old neighbour who is very nervous about this.
"Why are Acha doing this now? It is not essential work.
"I very rarely go out of the house. How do I know it will be properly sanitised when the workers leave? A few of my neighbours have said they are not going to let them in.
"I have children and grandchildren who can't come and see me, but I've to let a squad of workmen into my house.
"I have got heart problems, lung problems and mobility issues.
"I am not taking chances with my life. I have decided they are not coming in."
Lynn Gardens provides bungalows for the elderly and disabled. The daughter of a recently widowed 88-year-old resident said: "I'm going to speak to Acha to explain the situation. It's not just the Covid fear, it is not a good time to have strangers in the house. I am the only one in the family allowed in just now with the restrictions."
The association was awarded more than £5million from the Warm Homes Fund to install 845 energy efficient air source heat pumps in homes across Argyll and Bute.
To tackle rising energy costs and fuel poverty, Acha has also invested more than £5million of its own resources.
A spokeswoman said: "All of the  contractors and surveyors on the project  have carried out robust risk assessments to ensure that we are keeping our tenants safe. All of the surveyors are Covid safe and employing safe working practices.
"Acha has employed tenant liaison officers who contact each of our tenants individually to discuss any personal challenges with the installation. We will, and have, arranged alternative accommodation for the time of the installation to ensure that everyone has  somewhere to go during the installation.
"All of the contractors have carpet fitters and joiners who go in before the install to lift the floorcoverings and floor boards, and then at the end of the job these are reinstated.  To date, we have installed over 200 systems with high satisfaction rates from the tenants.
"This form of heating is highly energy efficient and has a real impact on reducing energy costs. We will do all we can to demonstrate the benefits but if tenants do not want to participate then we will not force anyone, but this is an opportunity to reduce their  fuel costs considerably and it would be a pity to miss out on this opportunity as the project is limited."