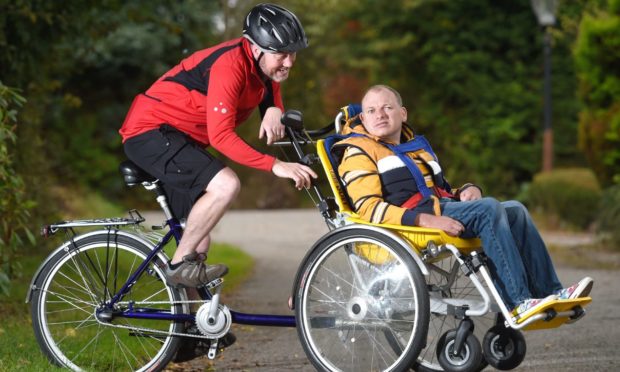 A north family fundraising for an electric duet bike to support a disabled man through the pandemic and beyond celebrated yesterday as they achieved the full amount in little over a month.
Friends, family and complete strangers have rallied in a myriad of ways to raise £7,000 for the special bike for James Murray of Kirkhill, Inverness-shire and his carers.
James, 41, has Angelman Syndrome, leaving him with no speech and mobility impairment.
After he lost his valued day care at the Corbett Centre in Merkinch from the start of lockdown, he became withdrawn, and his family came up with the idea of borrowing the centre's wheelchair bike to take him out on trips.
James lives with his parents Kathleen and Jim while brother-in-law Mark Forbes is nearby sharing his care.
Mark and James have become a familiar sight in the village, Mark pedalling with James in front.
Putting cameras on the bike confirmed the impression that James was loving the experience, but Mark's legs were feeling the strain.
The family came up with the idea of fundraising for an electric version which will ultimately help all James' carers take him out and about.
They put up a Just Giving page, and have been charting James' outings in social media.
Mark also set himself and James the fundraising challenge of cycling from Kirkhill through Beauly to Muir of Ord, on to Redcastle, over Kessock Bridge through Inverness and back home, a round trip of around 31 miles, the furthest they have ever been.
The pair achieved this last weekend, battling bad weather at times, but joined by groups of friends to film them and cheer them on, with cakes and cheques appearing at stops along the way.
Mark said: "We did it in 3hours 15 mins cycling time, and afterwards James slept for 15 hours straight, which is very unusual for him."
Mark said the generous response to the appeal has been overwhelming for the family.
"A four year old girl came up to me and gave me her and her sister's pocket money.
"In the village, a wee boy Alec who has befriended James has been helping his mum with a fundraising raffle.
"We are so grateful to everyone, it has lifted and excited the family so much, although my wife and I have hardly been able sleep over the past two weeks.
"I thought the money would stop after the challenge, and we were still short, but then an amazing £500 donation appeared and took us to the total."
The bike, from London Recumbents, is due to arrive in around six weeks.
Mark said: "We'll be recording how we put it together so everyone can follow it on James' social media page."