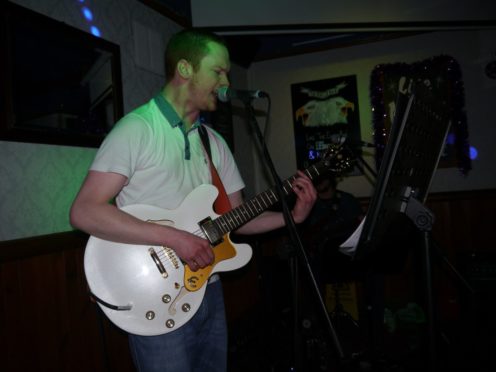 A university has revealed the virtuoso students who have won an award set up in memory of an Inverness man.
The winners of the University of the Highlands and Islands Liam Colgan music student awards 2020 are Aiesha Hunter, 21, from Fife, and Jack Birnie, 22, from Perthshire.
Both Jack and Aiesha studied at Perth College UHI and graduated this year with a first-class BA popular music degree and will each receive £500 towards a mentoring opportunity with a renowned artist.
Liam Colgan went missing in Hamburg in February 2018 while on a stag do he had organised ahead of his brother Eamonn's nuptials.
Following a 10-week search, which captured global attention, the 29-year-old's body was eventually recovered from the River Elbe in April.
Two years on, his grieving family and fellow musicians have banded together to establish the Liam Colgan Music Fund in his memory.
The charity will help give people opportunities in the music industry on both performance and production levels.
Founder of the award, and father to Liam, Brian Colgan said:  "It was great to be able to meet and award last year's winners Lora MacLeod and Liam Cole at their graduation ceremony at Perth College UHI where Liam also graduated from.
"We thought it would not be possible to do the same this year due to the pandemic but were delighted when we found out that an online awards evening was being arranged by the university.
"We set up this student award with the University of the Highlands and Islands as a way to help young people realise their ambitions in the world of music, and to make sure that positives could come out of the devastation caused by Liam's untimely death."
Dr Seán McLaughlin, BA Honours popular music programme leader, said: "Both students demonstrated outstanding resilience, creativity and dedication in adapting their honours year projects to difficult circumstances following the outbreak of Covid-19.
"Aiesha produced a fantastic collection of original songs, but also designed a free online songwriting education programme during the spring/summer lockdown. I'm looking forward to seeing her continued development and output in both of these areas with the help of the Liam Colgan Scholarship.
"Jack produced a raw and honest album of material that really captured a sense of isolation – reflecting the mood of the moment through his songwriting and music production.
"With this scholarship opportunity I am certain he will continue to grow his practice, and I can't wait to hear his next record."
Aiesha said: "Songwriting for me, has always been a way to explain things that I'd often have trouble doing so otherwise.
"It's an escape, a way to vocalise emotions, a way to tell a story and a huge passion of mine.
"Prior to starting at university, the only thing I had ever written was a poem to the tune of Three Blind Mice and I thought I had created a masterpiece.
"In just four short years, I have built the confidence and skills to create music that I am incredibly proud of. I can't wait to continue writing music and for the release of my first solo EP early next year.
"I am so thankful to the University of the Highlands and Islands, my tutors, my fellow music students and of course Liam and his family, who I can't thank enough for this amazing award."
Jack offered advice for those considering applying to study music.
He said: "It was absolutely fantastic to hear that I had won the Liam Colgan Music Production award.
"It reassured me that the time and effort that I put into the project was enjoyed by others.
"Receiving this award has also given me the confidence and the drive to keep going and keep learning, which my course also encouraged me to do from the 'get go'.
"For anyone considering joining a music degree course at the University of the Highlands and Islands, I would highly recommend it.
"If like me when starting, you are unsure about what to career to pursue after graduation, this is the course for you.
"It has given me to gain a broad education regarding many aspects of a career in the music industries like teaching, song-writing and production.
"Alternatively, there is great scope for delving deep into one particular area, allowing for detailed study and developing specific skillsets. The course is what you make of it."
Alison Wilson, head of development at the University of the Highlands and Islands, said the university was "really grateful to receive these donated funds, gifted in Liam's memory".
She added: "They help ensure his love of music lives on by providing much-needed support to other University of the Highlands and Islands music graduates following in Liam's footsteps.
"To see these awards providing additional opportunities for our talented musicians to develop their skills is really humbling."
The Liam Colgan Music Fund was launched on October 13, 2020, and was set up to help people to realise ambitions in the world of music, while adding to Liam's legacy.