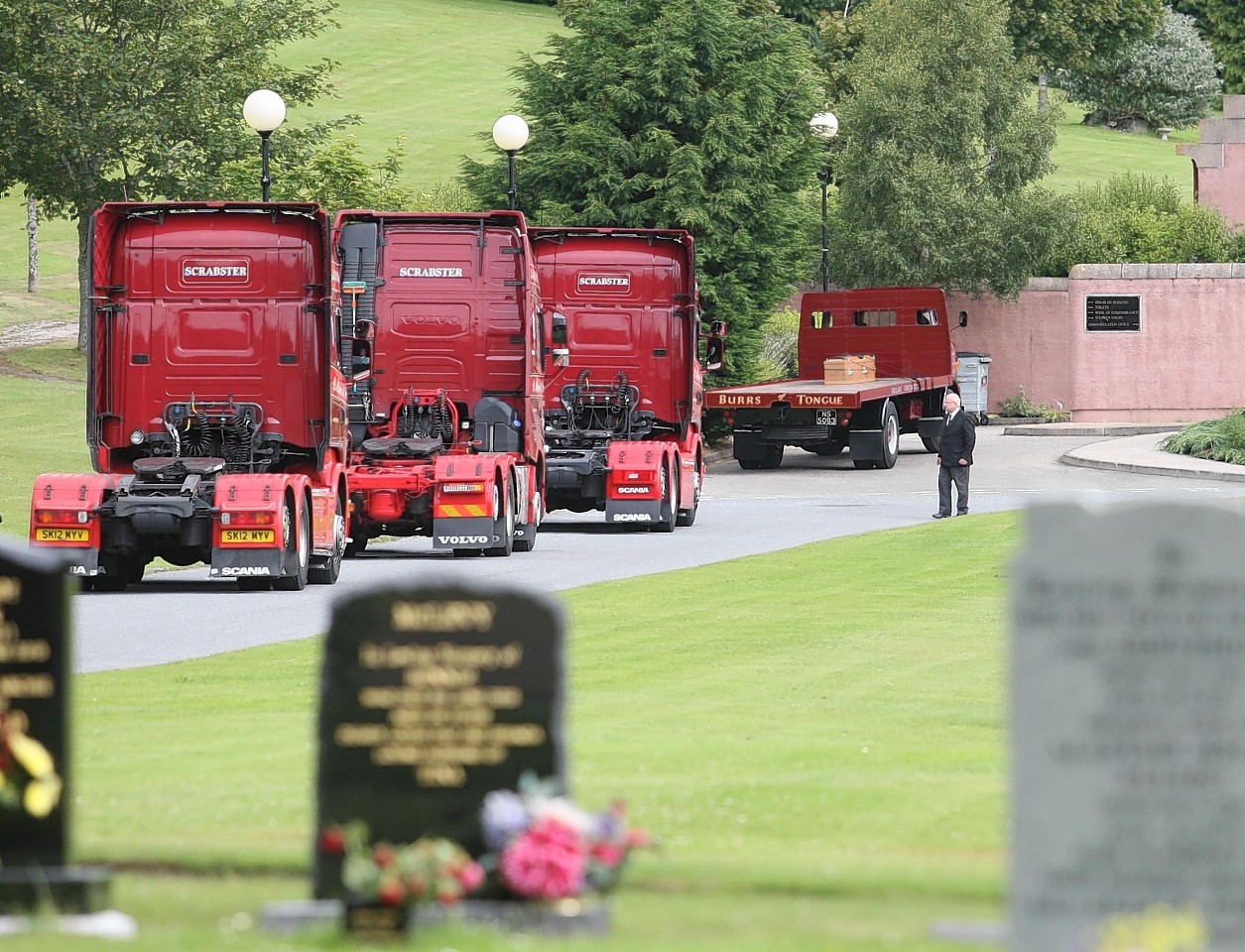 Highland truckers formed a funeral convoy as a mark of respect to a fellow lorry driver who lost his brave fight with cancer.
The coffin carrying Davie Crombie, 57, was carried on a vintage lorry from his home in Alness to Inverness Crematorium.
The lorry, owned by a family friend, was joined by a fleet of others, including some from the company he spent 33 years driving for, Wick-based haulage firm D Stevenson & Son Ltd.
Mr Crombie, from Wick, moved to Alness in 2003. He was diagnosed with bowel cancer in 2010 after using a bowel cancer screening kit to detect it early.
But three years ago the cancer returned to his lungs and gradually spread.
Getting the lorries together to give him a good send-off was his own idea. He told his wife Ruth that if motorcyclists in motorbike clubs could do it, then lorry drivers could too.
He also wanted his funeral to be on a Saturday, so people would be off work and able to attend.
Mrs Crombie and his sister Kay Crombie said they have been "blown away" by the number of cards and messages received, not just from family and friends but from other people in the community.
Mrs Crombie, 49, who Mr Crombie married on his 50th birthday on New Year's Day in 2007, said: "He was the kind of man that thought about others when he met people for the first time, he always made them feel welcome.
"Even at the end of his life he asked doctors at Raigmore Hospital in Inverness if he could be put home to Invergordon Community Hospital because he was more worried about me being up all night than himself."
Mr Crombie's sister said: "It's just amazing that this celebration is happening. We have never felt so proud. We are proud beyond belief and he will definitely be having a smile to himself right now.
"He never complained about the cancer and his bravery was just amazing. Paracetamol was his painkiller and the phrase he used to always use was that everything was just 'tickety-boo'."
David Steven, managing directors= of Steven's where Mr Crombie worked, was also a classmate at Wick High School.
He said: "He was a really nice guy. Really sincere and he had a heart of gold. He was dedicated to his job and never had to raise a question about anything. It's just a real shame that he's passed away."
Mr Crombie died peacefully on Tuesday June 24 in Raigmore Hospital.