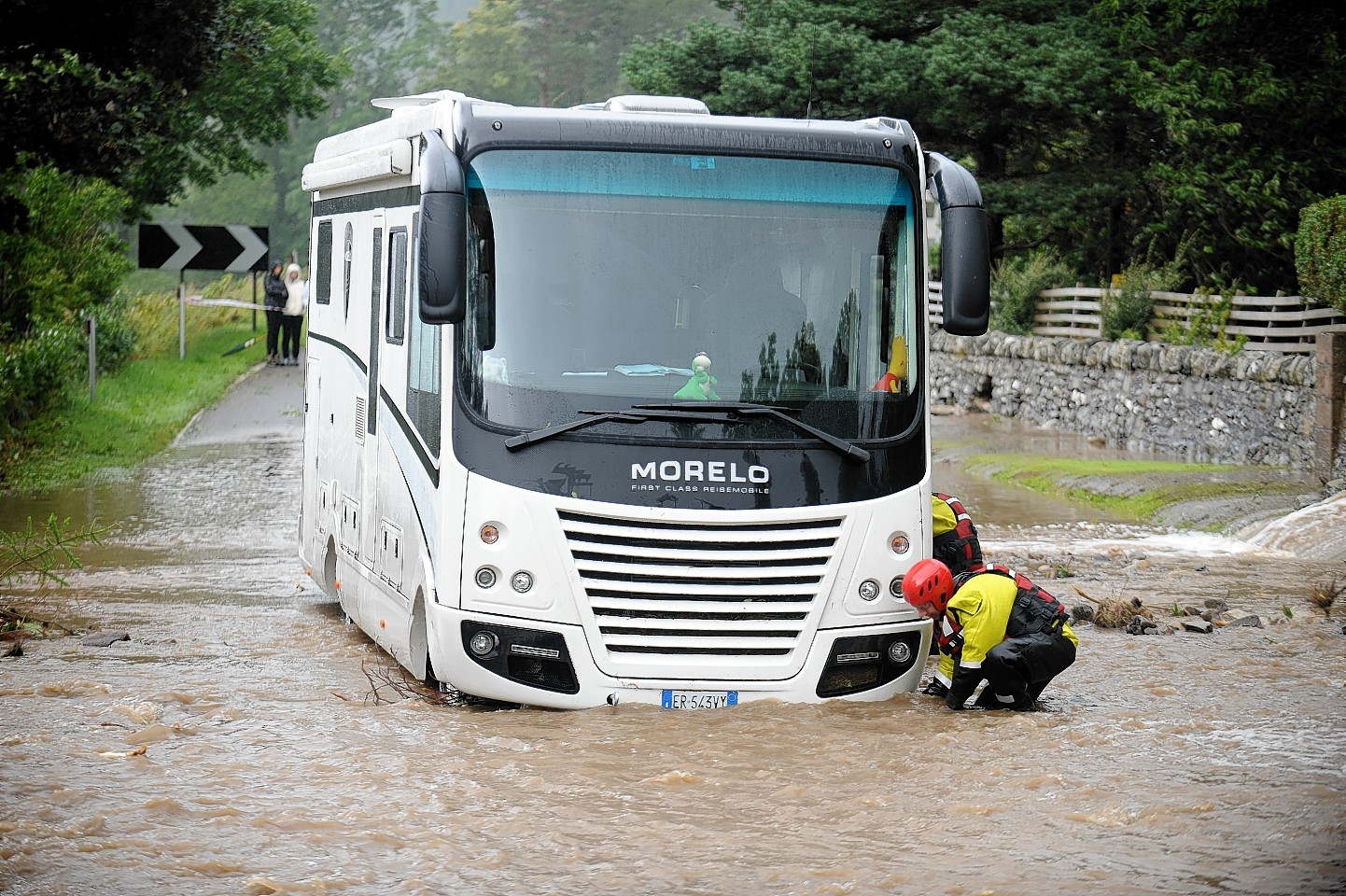 A multi-agency operation swung into action last night as the Highlands tried to battle back after being battered by heavy rain and high winds.
Fire and rescue crews attended more than 50 incidents in the region, many of which involved people being stranded after attempting to drive through flooded sections of road.
Motorists faced obstructions and delays throughout the north.
The A835 Ullapool-Tore road was closed overnight after being deluged by water south of Ullapool throughout the day.
It meant that people travelling to the village for the Stornoway ferry had to make an 86 mile detour via Tain, Rosehall and Elphin to reach the ferry terminal, adding more than two hours to the journey.
Part of the A938 Carrbridge-Dulnain Bridge road was washed away by floodwater, forcing the temporary closure of the route.
At nearby Carrbridge, residents and visitors watched as the River Dulnain poured over the parapet of the old packhorse bridge.
Locals the waters had not reached such a level in nearly 40 years.
Train passengers fared little better as services between the north and the central belt were severely disrupted after the Gynack burn in Kingussie burst its banks.
A section of the track bed was washed away and water spilled over the platform at the town's station.
The local secondary school and council offices were also inaccessible and two footbridges were washed away.
Other parts of the Highland main line were buried under mud and debris.
The Inverness-Aberdeen line was also underwater at several places between Elgin and Keith.
The ferries were least affected, with only a few delays to services in the west.
However the Glenelg ferry to Kylerhea on Skye stopped operating for the day due to the bad weather.
Court cases at Inverness were called off because of witnesses could not reach the court.
And one man was shocked to find a huge sinkhole on a single track road at Delnies, near Nairn.
Water swept away the track and part of the verges, leaving a herd of pigs huddling near the edge and looking curiously into the collapse.
A police spokesman warned motorists that flood water could mask damage to the road, resulting in hidden hazards.
Although the weather is not expected to worsen, rain and wind will continue to make conditions difficult as the mop-up gets underway.
Although Scottish and Southern Energy (SSE) last night confirmed there were no significant power outages across the region, the company added that isolated homes may be affected.