 An islander who starved his hens and ducks and kept them in filthy conditions told a court he deserves to "suffer the same".
William Fairbairn, 51, of 9A Easdale Island, was banned from keeping hens, ducks and geese for life and also fined a total of £400.
Representing himself in court, Fairbairn, who has been off work sick from his job as a ferryman, said: "I accept full responsibility. I now just eat three days a week because I want to suffer the same."
At Oban Sheriff Court yesterday, Fairbairn admitted causing 22 hens, one cockerel and 16 ducks unnecessary suffering.
The court heard he failed to provide adequate nutrition or sufficient drinking water for the birds and kept 10 ducks in a filthy run that was too small, with insufficient shelter, the floor of which consisted of mud and faeces.
He kept another 10 ducks in a shed that was too small, failing to provide them with food and water, resulting in four of them dying.
The 22 hens were kept in a greenhouse which was too small, in filthy condition.
The charge stated that all of the animals became underweight, malnourished, filthy and were suffering from Bumblefoot, a bacterial infection which occurs in the feet of birds.
He also pleaded guilty to a second charge of failing to take steps that were reasonable to ensure the needs of the animals were met.
Fiscal Eoin McGinty said: "The Scottish SPCA received a complaint stating the accused was keeping poultry in unsuitable conditions and not regularly feeding them.
"The inspector saw a shed and greenhouse and noted that the birds were filthy, covered in mud and very thin.
"Upon opening the door birds filled out and immediately started drinking rainwater.
"He volunteered on a number of occasions whilst the inspector was there that he would not keep ducks or hens ever again."
Sheriff Susan Sinclair told Fairbairn: "The most important in terms of disposal is to make a disqualification order to prevent you from keeping ducks, hens and geese."
Speaking afterwards, Scottish SPCA senior inspector John McAvoy said: "We are very pleased Fairbairn has received a life ban following our investigation as this is the result we had hoped for.
"Thankfully the surviving birds have since been rehomed to suitable new owners."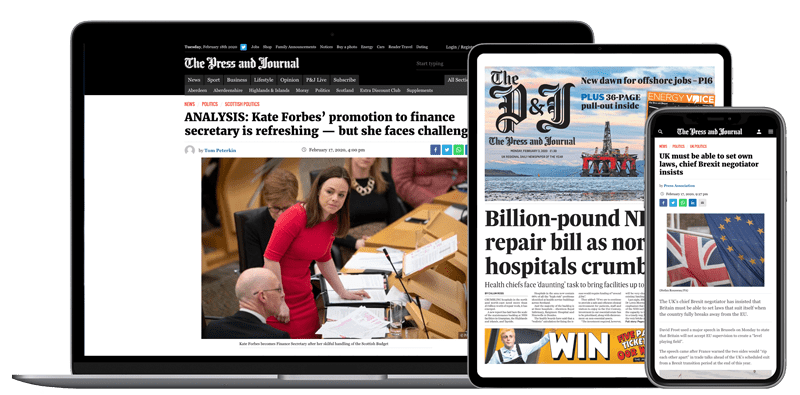 Help support quality local journalism … become a digital subscriber to The Press and Journal
For as little as £5.99 a month you can access all of our content, including Premium articles.
Subscribe