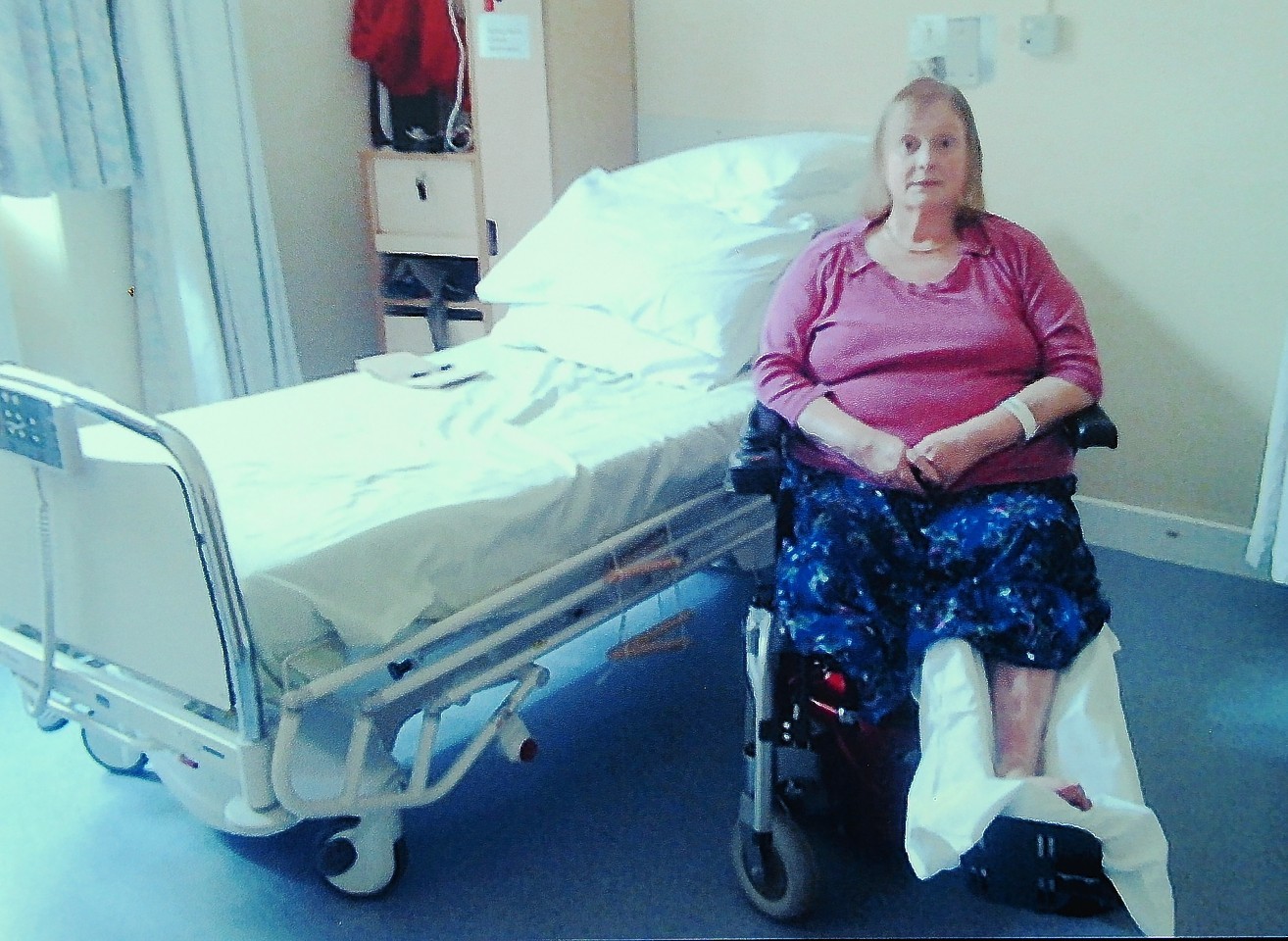 A north woman has had her hopes of ending an enforced 11-month stay in hospital dashed at the last minute.
Debbie Michie has been unable to return home since having her leg amputated last September because NHS Highland was unable to provide the care she needs.
Her expectations were raised last week when medics told her she could be discharged today after plans were put in place for staff to visit her four times each day at her home in Nethy Bridge.
But the 61-year-old's dreams were wrecked after she picked up an infection in hospital which has extended her stay yet again.
Speaking from her bed at the Ian Charles Hospital at Grantown, where she was transferred after the operation at Raigmore, she said she was upset for herself – and worried for the other patients she had met who face the same care predicament as her.
The Scotland Patients Association said it was "shocking" that people were facing such long delays, but NHS Highland said it was struggling to recruit enough staff to look after patients in their own homes.
Mrs Michie said: "I'm just so disappointed. I was all set to get out but they told me that I've got an infection and I'm going to have to stay in for another wee while.
"It's just the latest problem – anything that could have happened seems to have happened.
"I knew it was a big operation and I was told it would take two or three months before I was well enough.
"I don't want this to happen to others."
She said she was glad that a care package was finally in place for her, but insisted her difficulties were part of a much wider issue facing NHS Highland.
"I'll be getting visits four times a day, which is excellent, but the problem hasn't been resolved for anyone else," she said.
"I've been in hospital for 11 months but nothing seems to have changed as far as getting care in place when people are ready to go home.
"There are others I know who are ready to get home but they can't and it's just not fair.
"I would like to keep pressing this point once I get home because I don't want others to end up going down the same route as me."
Husband Iain, 63, added: "It's a relief that the care is in place and we're coming to the end of the process at last.
"It has been frustrating at every turn. It's not the staff's fault though, they have been brilliant and they are just as frustrated as the patients."
NHS Highland's adult care service has been under increasing scrutiny since it was transferred from Highland Council in 2012.
Dr Jean Turner, chief executive of Scotland Patients Association said she was shocked that the problems had become so severe.
"It's totally unfair that someone who is well enough to go home can't because of a lack of care provision," she said.
"It's not a good situation for anyone to be in, especially not the patient or their family.
"In my view health boards need to change the perception of the role. It's an intense job but a rewarding one and that side isn't stressed highly enough."
An NHS Highland spokeswoman said: "NHS Highland has been taking a number of steps to try and improve the immediate situation with care at home including advertising more posts, working with the independent sector and our own staff doing over-time, but we have not been able to create enough capacity.
"The challenges we have are reflected on a national level and doing more of the same is not the answer.
"We need to think differently by looking at new roles, better pay and career structures and so on.
"This is going to be a growing challenge and one which NHS Highland cannot fix on our own.
"We will continue to work with local communities, independent and third sector organisations to see how together we develop effective and acceptable solutions."