 Contractors have almost completed work to reduce levels of a radioactive gas in nine Highland Council properties.
Radon has been recognised as a cause of lung cancer in humans for many years.
Because of the risks, the Health Protection Agency (HPA) and its predecessor, the National Radiological Protection Board (NRPB), have advised that excessive exposures to radon should be reduced.
The Westminster Government accepted this advice and it forms the basis of an ongoing programme of radon control.
Tests earlier this year showed the north buildings, which include five schools, had higher than the recommended presence of radon, which is produced by decaying uranium in rocks and soil.
They are Helmsdale, Halkirk, and Glenurquhart primary schools, Kilchuimen Academy, Glen Urquhart High School, Helmsdale Library, Brora Heritage Centre, and the Memorial Hall, and Telford Centre care home, both in Fort Augustus.
While it disperses rapidly in open air, radon can reach high levels indoors – it exists in all buildings, including homes, but factors like local geology, building design, heating, ventilation and use, dictate the amount.
Highland Council has collaborated with Public Health England (PHE), and the Health and Safety Executive (HSE), as well as specialist consultants to install equipment in all nine places to deal with the issue.
Only the kitchen of the care home still has radon higher than the recommended level as the equipment has not been fully installed yet.
No further action was required at Brora Heritage Centre or Fort Augustus Memorial Hall, as monitoring over two months found the levels of radon were acceptable.
A Highland Council spokeswoman said: "All works are complete at the sites, with monitoring now taking place.
"As short term monitoring results become available, these will be communicated to staff, pupils and building users.
"As previously advised, results of short term monitoring are expected to take a period of 10 to 14 days from completion of commissioning works.
"Given the natural variances in radon, longer term monitoring, for three months, will also be undertaken."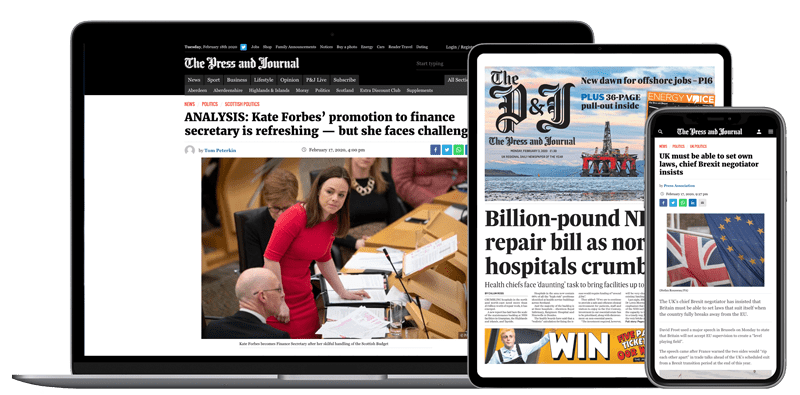 Help support quality local journalism … become a digital subscriber to The Press and Journal
For as little as £5.99 a month you can access all of our content, including Premium articles.
Subscribe