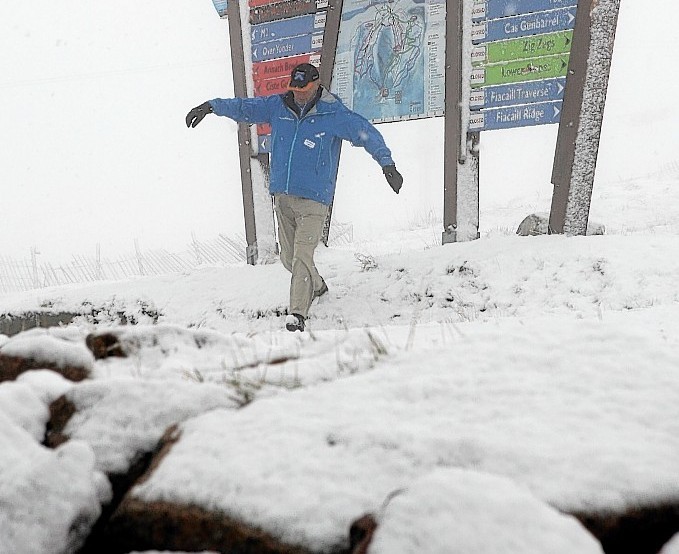 The arrival of the first snow of the season was greeted with excitement at a Highland wintersports resort at the weekend.
Several inches of the white stuff appeared above 2,800ft on Cairngorm mountain overnight on Friday to the delight of people visiting the area on Saturday.
And children of all ages played in the snow around the Ptarmigan Restaurant at around 3,600ft on the sixth highest mountain in the UK.
CairnGorm Mountain Ltd duty manager Dougie Somerville yesterday said: "We had a couple of inches, enough to give it a covering. It was as if icing sugar had been sprinkled on it.
"People kept asking me if there were any children playing up there and I told them there were children of all ages.
"Snow is a great leveller. Everybody becomes a kid when it snows and there was enough on the viewing terrace to build a snowman or two.
"We're all getting excited and hoping it's a good sign for the season ahead."
Most of the new snow had disappeared from the 4,084ft mountain yesterday, but more is forecast for ground above about 3,600ft later this week.
Mr Somerville pointed out there was still some snow left from last winter in some of the north facing corries.
Meanwhile, the weather caused disruption to ferry services at the weekend.
Gales battering the Western Isles resulted in two days of ferry chaos with seas too rough for crossings.
A forecast of 70mph winds meant the MV Clansman was stormbound in Oban and could not sail to Barra or South Uist yesterday.
Today's ferries from these islands were also cancelled and the next service out of South Uist to the mainland will now be on Wednesday.
All sailings on the Eriskay to Barra inter-island sea route were cancelled yesterday and the ferry will only sail today if weather permits.
Last night's ferry to Lochmaddy and Tarbert was also put off.
Normal timetables were cancelled for the MV Hebrides, MV Isle of Lewis and MV Loch Portain, which all set off hours earlier than usual yesterday in a bid to make their crossings before the violent winds expected to funnel up the Minch.
Sailings to Colonsay, Eigg and Muck were also abandoned.
Yesterday's severe gales were forecast to intensify to a storm by 4am today, bringing rain and rough seas for the Western Isles.
And ferry operator Caledonian MacBrayne was warning passengers to expect cancellations and delays.