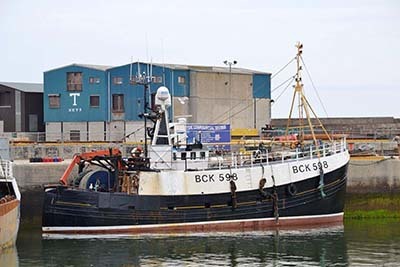 The skipper and engineer of a stricken fishing boat "scrambled" to safety just before it sank in a north harbour, according to a report published today.
A Marine Accident Investigation Branch (MAIB) investigation was launched after the Shalimar became inundated with water while moored alongside Scrabster's fish market in Caithness on April 30 this year.
The probe showed that the UK-registered trawler – built as a seine netter by George Thomson & Son of Buckie in 1985 – suffered serious damage when it made heavy contact with the quay wall while shifting berths at 9.27pm. It sank at 9.50pm.
The report states: "The vessel's wooden stern was severely damaged and the hull flooded rapidly.
"There was no pollution and there were no injuries.
"The vessel was re-floated 12 days later, but it was beyond economical repair."
There had been four people on board – the skipper, the engineer and two deckhands – when it arrived at the harbour to land 348 boxes of white fish.
While moving the boat to another berth, the skipper moved the engine control lever to "neutral" and then to "ahead" at 600rpm, but it continued to power astern.
The skipper warned the port's duty officer by VHF radio that the boat was "going to hit the pier", which it did. It then rebounded and continued to strike the quay until the engineer stopped the main engine.
As the water level rose, the deckhands were told to leave the vessel, but the skipper and engineer remained on board attempting to pump the water out, however, the boat was listing badly.
The report says: "The skipper and engineer realised that the vessel could not be saved and they scrambled ashore just before Shalimar sank alongside the quay."
The investigation showed that a morse cable, which controlled the main engine's gearbox, had come away from its mounting in the wheelhouse.
It also revealed that the main engine could only be started and stopped from inside the engine room and the vessel was not fitted with watertight bulkheads.
However, no recommendations were made as it was concluded that, if the vessel had been built today, current construction standards would have significantly increased its survivability.