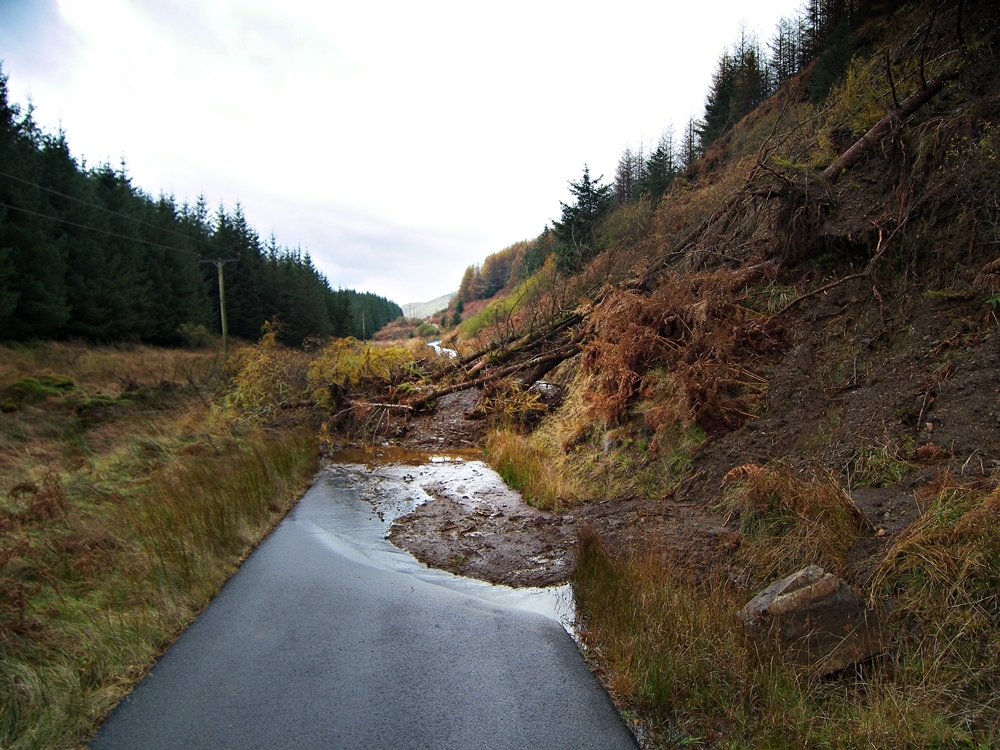 A remote north community was marooned by a landslide and flooding as the Highlands were battered by more downpours.
People living in the eight properties at Loch Avich in Argyll were totally cut off when their single track lifeline road was blocked with earth and trees on one side of the small settlement and deep water on the other.
Last night, as forecasters predicted more rain for the north later this week, locals said they feared police, fire and ambulance crews would not be able to reach them in an emergency.
Christine Metcalfe, who lives at Loch Avich, said they were unable to get to Kilmelford because of a substantial landslide on the single track C29 road.
They could not travel in the other direction – towards Taynuilt – because of flood water on the road at Barrachander Quarry, near Kilchrenan.
She said: "We are totally marooned. No one can get in or out of this area. Although it's a tiny road, it's our lifeline.
"Our main concern is what would happen if we needed the emergency services.
"There is one man in our glen who is severely disabled and being cut off is very serious for him.
"The landslide is a first for our area. It's brought down land and trees and it looks as though there's more to come down."
The road was still blocked by a 4ft high pile of earth and timber last night. The flood water had been cleared, but locals feared it would return if there was more rain during the night.
Meanwhile, a diversion around a stretch of road around a landslide had to be closed due to flooding on the alternative route.
The A83 Tarbet-Campbeltown trunk road, which was blocked on Tuesday last week after thousands of tonnes of mud and rocks were washed on to the carriageway at the Rest and Be Thankful, reopened under traffic management yesterday, but was closed again at 5pm.
Since the landslip, the Old Military Road (OMR) had been operating as a diversion while trunk road contractor Bear Scotland worked to clear the route.
A spokeswoman for the agency said: "The Old Military Road local diversion route operated successfully overnight on Saturday into Sunday, however, between approximately 9.45pm and 11pm on Saturday, it was impacted by localised flooding."
She added that the road was covered by about a foot of water.
The spokeswoman added: "Transport Scotland has already instructed that further design work is undertaken to reduce the likelihood of flooding on the OMR."
Meanwhile, a review of the road and weather conditions will be carried out at the Rest and Be Thankful this morning.
Chairman of the A83 Marketing Group, Mike Story, said: "We are delighted that the A83 has reopened at the Rest and be Thankful today, despite this just being a temporary measure.
"The Old Military Road has provided Argyll and the Isles businesses with a safe route through the A83 landslip and ensured that Argyll has remained open for business."
He added that the group wanted to thank the Bear team, which was working at heights of more 1,000ft in "the most atrocious weather and zero visibility".
Mr Story said: "They have gone beyond their duty to remedy the situation."
Transport Scotland's head of network maintenance, Graham Edmond, said: "It's been a very challenging week for all concerned – local residents, businesses and not least those working round the clock to get the road reopened in very testing conditions."
Elsewhere, firefighters battled to prevent rising water levels caused by heavy rain from flooding a row of seven houses close to a Western Isles coast.
A fire service spokeswoman said they received the call to the incident at Bayhead in North Uist just before 3.30pm on Saturday.
She said a crew from Bayhead attended and remained on scene until after midnight pumping water away from the properties.
She added that none of the properties was flooded.