A public hearing is to take place into a windfarm that could earn an MSP millions of pounds after its refusal was appealed.
RWE Innogy wants to erect 15 turbines at Ardchonnel Farm, near Loch Awe in Argyll.
The 3,500 acre estate is owned by Conservative MSP and party environment spokesman Jamie McGrigor, who stands to earn more than £8million if the 364ft structures go up.
Argyll and Bute Council's planning committee refused permission for the windfarm at a special hearing in May.
Residents of the nearby village of Dalavich said the turbines were too big and would create too much noise.
Now RWE has appealed the decision to the Scottish Government.
Details of the appeal have been published on the Scottish Government's Directorate for Planning and Environmental Appeals website.
The public hearing to decide the appeal will be chaired by Scottish Government reporter Dan Jackman.
It is scheduled to take place on March 3 and 4, with a site visit on January 15.
A venue for the hearing is still to be confirmed, with halls at Dalavich and Kilmelford and The George Hotel, Inveraray being considered.
Representatives from RWE Innogy, Argyll and Bute Council and objectors Avich and Kilchrenan Community Council will be the main participants at the hearing.
A spokeswoman for RWE Innogy said: "We believe we have a viable scheme and as such have put forward our case through the appeal process."
A spokesman for Argyll and Bute Council said: "The council is committed to defending the decision of the planning committee."
Councillors agreed with the officers' recommendation that it would cause adverse visual impact.
Mr McGrigor said he had no comment to make about the appeal.
He previously said the income from the turbines would be a great opportunity to enhance the sustainability of his farm for years.
When the planning application was considered by Argyll and Bute Council RWE said it was looking at an estimated £46.7million total investment, with £20million spent during operation and maintenance phases, £17.6million in business rates to Argyll and Bute Council, £5.6million community benefit funding, and £3.5million spent during construction.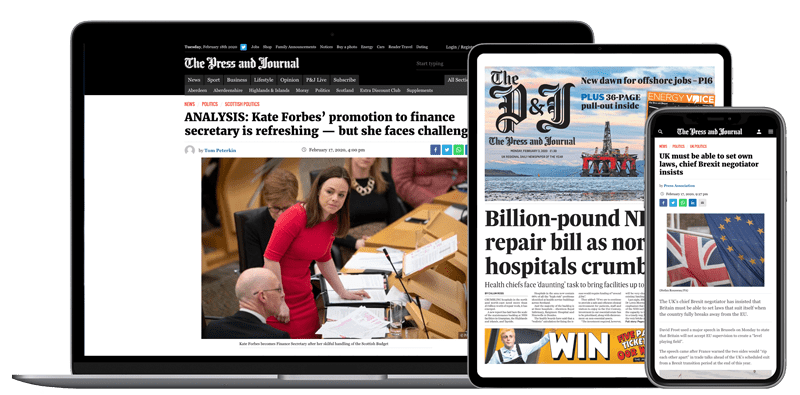 Help support quality local journalism … become a digital subscriber to The Press and Journal
For as little as £5.99 a month you can access all of our content, including Premium articles.
Subscribe