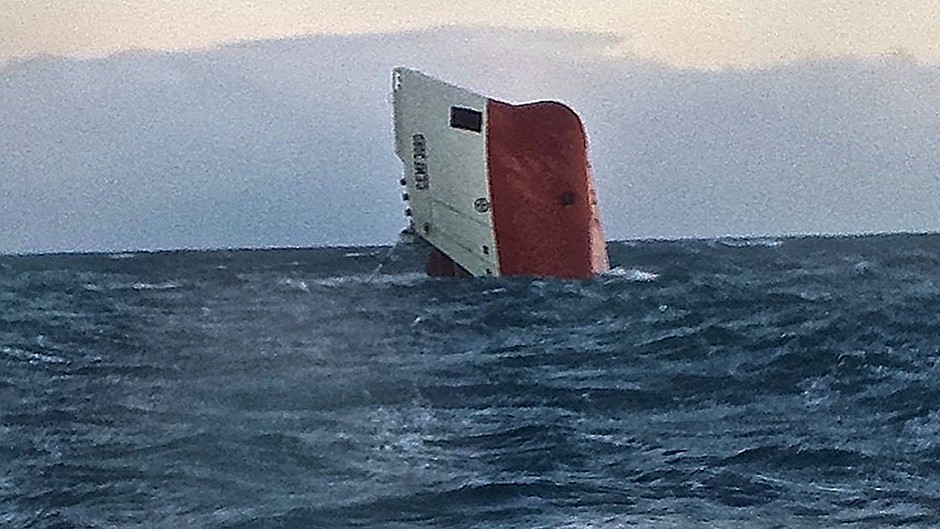 The owners of the cement carrier which sank in the Pentland Firth with the loss of eight lives have said that no decisions have been taken on whether the vessel will be salvaged.
The cargo boat Cemfjord remains at the bottom of the North Sea after it went down in mysterious circumstances at the beginning of the month.
Bad weather over the past week has prevented accident investigators from sending a remotely operated vehicle down to carry out a detailed examination of the wreck, which lies east of the Pentland Skerries.
No trace of the seven Polish men and one Filipino who were on board has been found, despite a massive land, sea and air search.
The Marine Accident Investigation Branch has now started inquiries into the tragedy.
Tony Redding, spokesman for the boat's owner Brise of Hamburg, said the company was trying to put together a picture of the weather conditions at the time the boat was last recorded – Friday afternoon on January 2.
He said that initial assessments were that there could have been 40ft waves in the area where the ship was last seen.
Mr Redding said: "People need explanations, particularly the families."
But he said there were no decisions on whether to raise the wreck, with several factors being considered.
One is that the boat is in deep water and does not pose a navigational hazard.
Another is that current weather conditions mean it is too dangerous to start a salvage operation.
Mr Redding said: "It would not be right to ask a diving team to take unreasonable risks in order to possibly recover bodies. They could lose their lives."
He added that the Cemfjord was seaworthy after it emerged she was sailing under special dispensation from the authorities.
The vessel was in dry dock in Poland last month for routine checks.
Two issues – with the bilge pump and the rescue boat – were flagged up but the boat was allowed to sail under conditions.
These were that portable pumps were carried and that there was a rented rescue boat put on the ship, alongside the two liferafts which were required.
Mr Redding said that there was an additional problem with a davit which meant that the liferafts and rescue boat could not be lifted from the deck into their cradles.
However he said that the Cemfjord was seaworthy and had completed a successful voyage when she came out of dry dock.