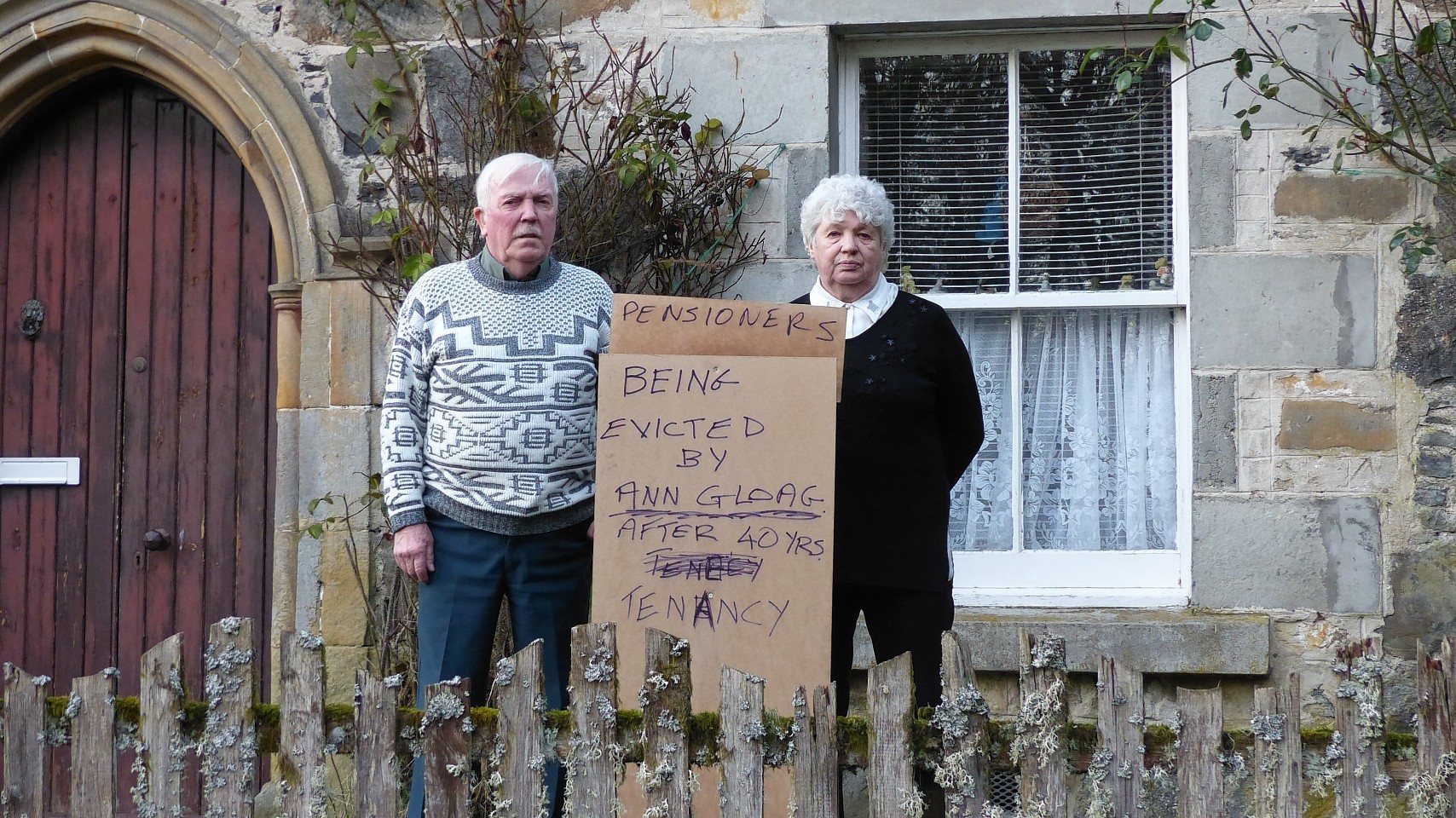 A Highland pensioner couple have been left heartbroken after being told they are being evicted from their home by one of Scotland's richest women.
Retired joiner Jimmy Bryan has lived in his country cottage on transports tycoon Ann Gloag's estate near Inverness for 40 years – but has now been given three months to get out.
The 72-year-old said he and his wife Lillie, 75, felt "sick" when they received the eviction letter from one of Mrs Gloag's representatives.
The couple have now sought help from the Citizens Advice Bureau (CAB) and Highland Council's housing department as they start an urgent search for a new home.
Mr Bryan said: "I was sick. We were expecting to be carried out of here in a box, not in a furniture van.
"This place has been my life. My kids were all brought up here. I could never move back to a council scheme or anything like that."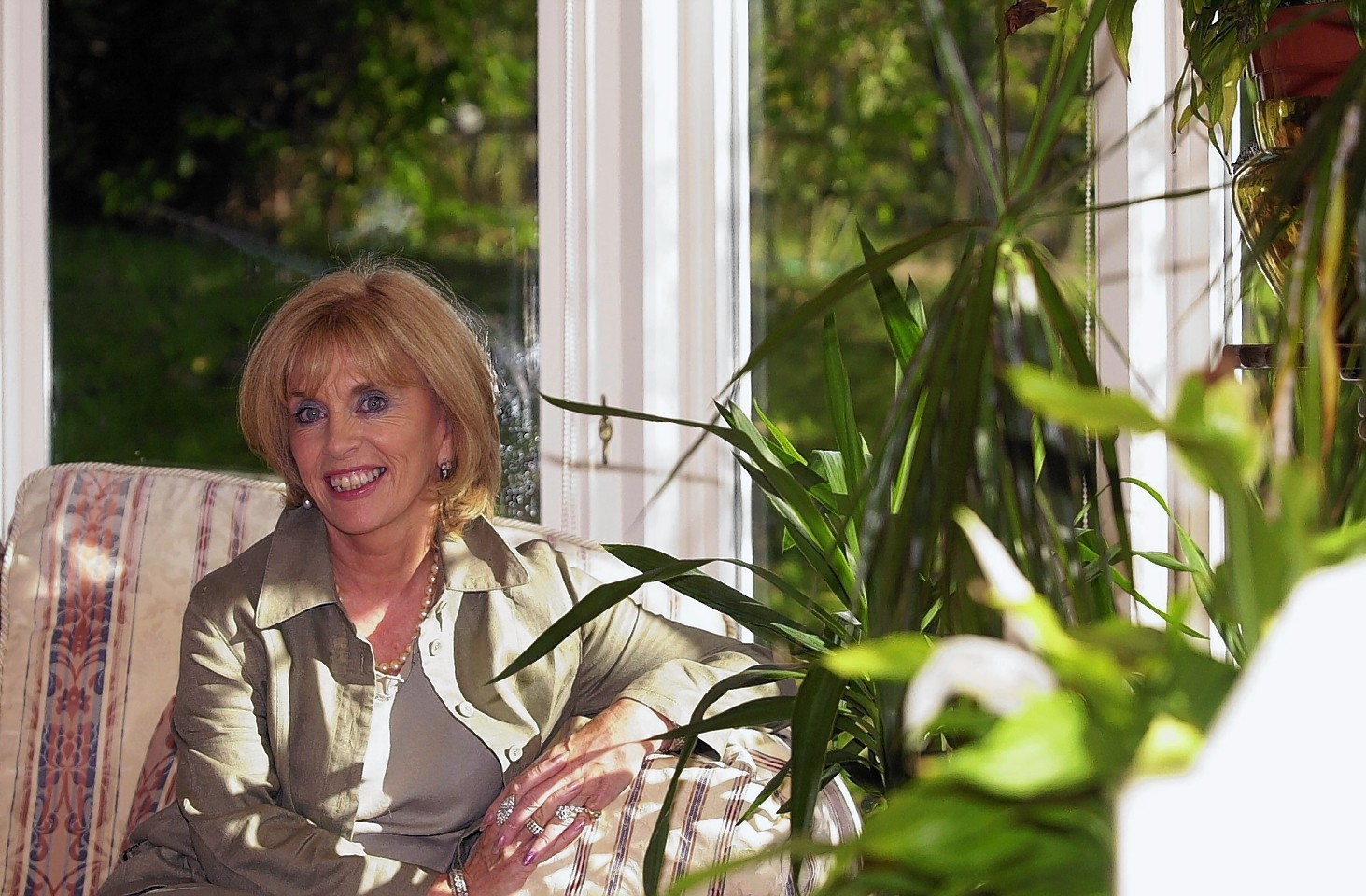 His wife of 16 years said: "I felt sorry for Jimmy because he's been here so long.
"He had a triple heart bypass 11 years ago and has had breathing problems. Exercising out in the garden has been good for that. But there is nothing we can do, it's on a lease. We've started packing up already."
The couple, who have nine children from previous marriages, said they had happily paid an affordable rent since Mr Bryan retired from estate work seven years ago.
An initial monthly rent of £200 had risen to £325.
The couple said they were unhappy when they first learned that Mr Bryan's daughter Julie Munro, who stays in Inverness, had posted her anger about their plight on a social networking site.
But her message has led to a tide of support for the couple.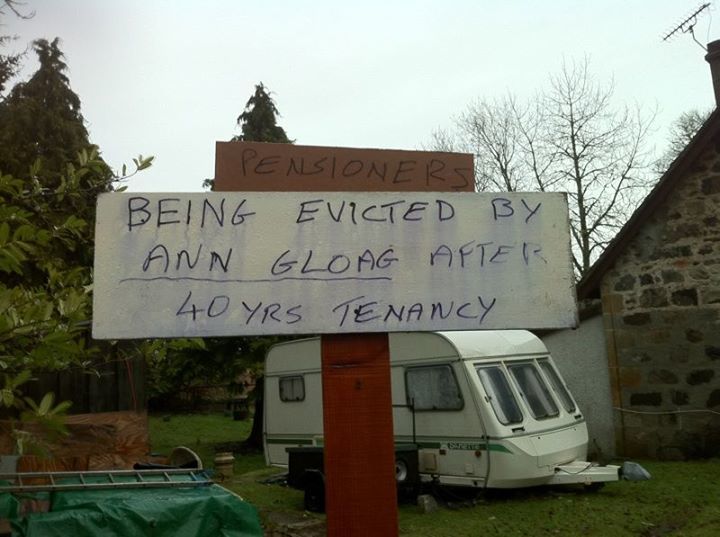 The Bryans' own response was to erect signs outside their cottage stating that they are being "Evicted by Ann Gloag" – which prompted neighbours to stop by and offer support.
Mr Bryan said of the sign: "I just wanted to get it out of my system, I was that wild. I had to do something.
"I was sitting, boiling, when I saw the letter. I thought 'what else could I do?'.
"It would be a waste of time taking it to court. I can't afford to and she's got the law on her side."
The letter from landlord Ramsay Gillies, on behalf of Mrs Gloag, points to "substantial internal refurbishment" of the property being required and that it would be "unreasonable" to undertake the work while the cottage is occupied.
But it goes on to say that their tenancy will not be extended beyond June 30.
In a statement, Mrs Gloag, who bought the estate about 20 years ago, said: "The cottage occupied by Mr and Mrs Bryan is in need of extensive repairs and upgrading which require the cottage to be vacant.
"Mrs Gloag appreciated the implications of this for Mr and Mrs Bryan and that is why they were told as early as July last year of the intention to refurbish the cottage as part of the ongoing maintenance of the estate, as well as given an extended notice period."
One neighbour said: "I was really upset for them. They've been there a long time. He worked for the estate. And there's no necessity for another holiday home, whereas he could stay where he was."
Various other vacated properties on the estate have already been transformed and used for holiday lets.
Mrs Gloag was co-founder, along with her brother Brian Souter, of the international transport company Stagecoach Group, and a charity campaigner.