The Church of Scotland is "literally dying" amid falling congregations, the departure of ministers and confusion over issues such as same-sex marriage, the next Free Church Moderator has said.
Rev David Robertson, who takes up the top role next month, said he was praying for its fortunes to change but he believed the national church was in a state of "theological and moral decline".
Last night, his claims were rejected by Kirk leaders, who insisted the picture painted by the Free Church bore little resemblance to reality.
Reports to the Church of Scotland's General Assembly show membership declined by 16,000 last year, and by more than 150,000 people in the last decade, while 130 parish ministers have gone – through either retirement or resignation – since 2009.
Meanwhile, the Free Church of Scotland has recorded modest growth over the past six years, with about 13,000 people currently attending its Sunday services.
Rev Robertson said: "The truth is simply this – not one presbytery in the Church of Scotland saw growth last year.
"The Church of Scotland is literally dying.
"I pray that the Church of Scotland will be renewed and revitalised and that these figures will be reversed. But I also believe that the Church of Scotland is declining numerically because it is also in a theological and moral decline."
Rev Robertson said the Kirk's stance on issues such as same-sex marriage and gay clergy was sending out a confusing message that was "as stupid as it is suicidal".
However, Very Rev David Arnott, coordinator principal clerk's office, Church of Scotland, hit back, saying: "The gloomy picture painted by the Free Church bears little relation to reality.
"The official membership of the Church of Scotland has gently declined by 16,000 in the course of a year. It is a similar picture in many other mainstream churches. However with approaching 400,000 members the Church of Scotland remains one of Scotland's largest and most robust organisations.
"Moreover without ever registering as members, countless thousands of Scots attend church services and are committed participants in church initiatives such as food banks.
"As regards ministers, 20 out of 800 have left because the church is considering allowing congregations the option of selecting a minister who is in a same sex relationship. It is a cause of sadness when a minister leaves but the church continues in its work and service."
Rev Peter Donald, minister at Crown Church of Scotland in Inverness, said: "Everybody is entitled to their opinion, but a harsh condemnation of a sister church is not entirely helpful."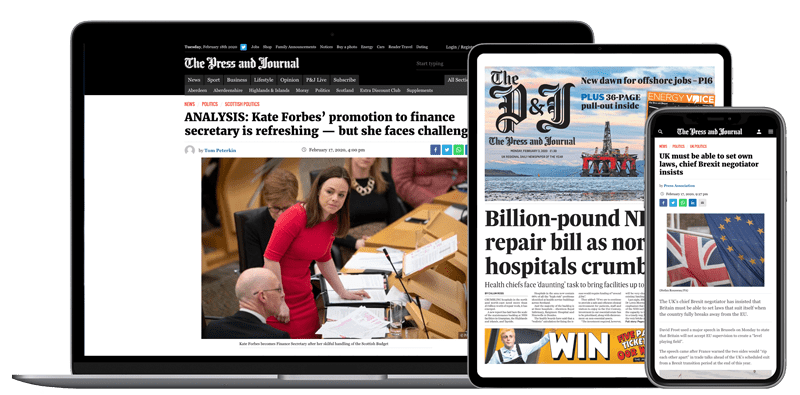 Help support quality local journalism … become a digital subscriber to The Press and Journal
For as little as £5.99 a month you can access all of our content, including Premium articles.
Subscribe