The Caledonian Canal has reopened to coast to coast vessels today after repairs were completed.
A bank of the famous waterway was badly damaged near Fort Augustus during exceptionally heavy rain and snow-melt in March.
The stone Cullochy weir separating the canal from the River Oich was breached by the exceptionally high water level.
Scottish Canals and its contractors responded within hours and battled a water velocity of more than 20 tonnes passing through the breach every second – the equivalent of four fully-grown African elephants.
A temporary rock dam was constructed at nearby Aberchalder Bridge to stem the flow of water and allow crews to access the affected area.
Work then started to install sheet piling in the damaged area to close the gap and this was backfilled with more than 1,000 tonnes of rock and recovered material.
Teams removed the sand and gravel that was washed out of the canal embankment and weir into the River Oich and, together with the rock retrieved from the dam, used it to reform the canal embankment.
The sheet piling is a temporary measure to allow the canal to reopen to traffic and a more permanent solution will be found in the coming months.
Steve Dunlop, chief executive of Scottish Canals, said: "The works to repair Cullochy Weir were among the most testing that Scottish Canals and its contractors have undertaken in many years and we're delighted to announce the completion of the initial consolidation of the weir and the reopening of the Caledonian Canal to all boat traffic today.
"While there's no way to predict events such as these, our emergency procedures and training meant we were able to react swiftly and effectively. Scottish Canals' staff and contractors were on site within hours of the breach, bringing the water under control and implementing a plan to repair the damage, safeguard the rich built heritage of the Caledonian Canal and bring the waterway back into use as soon and as safely as possible.
"The Caledonian Canal plays in a vital role in the economy of the Highlands and, throughout the repair, we were aware of how important it was for local communities that we brought it back into use as fast as we possibly could."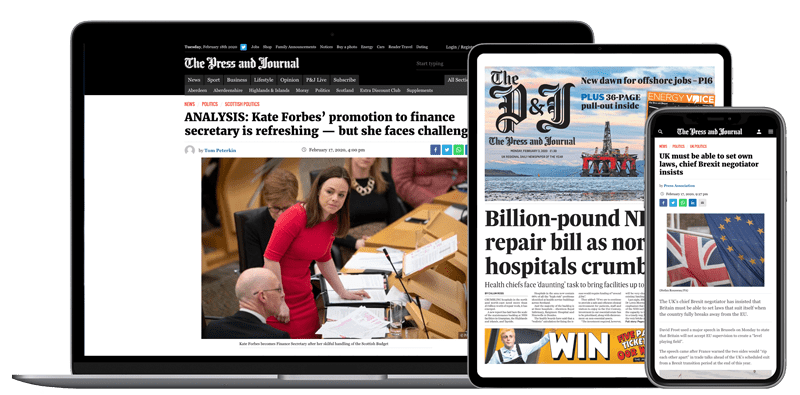 Help support quality local journalism … become a digital subscriber to The Press and Journal
For as little as £5.99 a month you can access all of our content, including Premium articles.
Subscribe