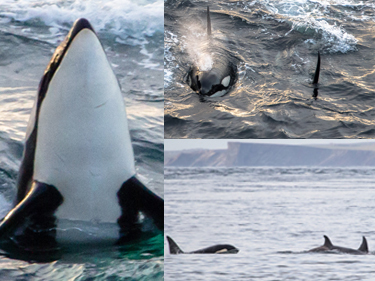 An amateur photographer has been having a whale of a time capturing some rare wildlife sights in Scotland's most northerly point.
Karen Munro shot these stunning images of a pod of 10 killer whales near John O' Groats last night.
Regular whale watcher Ms Munro has even started naming the individuals.
Ms Munro said: "A pod of approx 10 killer whales passing close in at John O Groats and Duncansby Head yesterday evening, they appeared to be looking to hunt seals and we suspect they got lucky.
"One of the individuals known as number 19 who we can identify from her notched dorsal and scarred saddle patch was there, she has been seen in Scotland during the summer for a number of years now and is also seen in Iceland during the winters where she was photographed this January past."
Colin Bird and the Seawatch foundation will hold the 4th annual Orcawatch at Duncansby Head this coming week, the event will start this Saturday at 7am and last most of the day.
Watches will start an hour later each day due to the tides and will run until the 30th of May.
For further information contact about this event please contact Anna Jemmett who is the Sea Watch Regional Coordinator, annajem@hotmail.com.uk or Colin Bird: colinB51@aol.