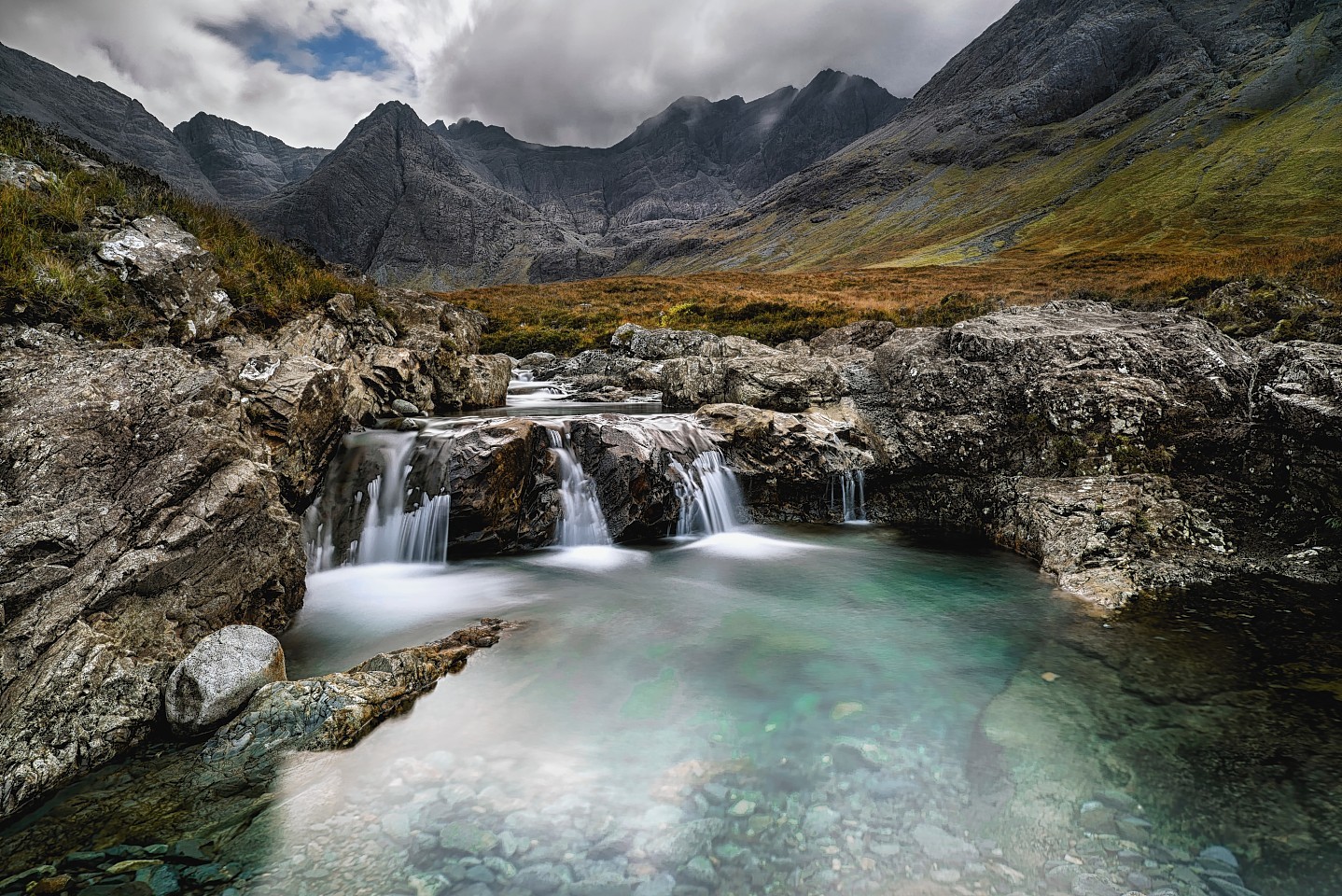 A holiday-maker is "extremely lucky to be alive" after he plunged 20ft into a pool at a popular Skye tourist spot yesterday.
The man in his 20s had been at the top of one of the Fairy Pools in the Glenbrittle area of the island when he slipped and fell, knocking himself unconscious on rocks before toppling into the water.
A team of eight Navy divers who were training in the neighbouring pool managed to swim across and drag him to safety.
The casualty, who was with a group of friends at the time of the accident, regained consciousness about two minutes after being rescued.
A Stornoway Coastguard rescue helicopter was dispatched and winched him safety before taking him to Broadford Hospital in Skye for precautionary checks.
Police and Skye Mountain Rescue Team was made aware of the problem shortly after taking a call at 3pm about another incident in the same area, where a man in his 40s fell and hurt his hip.
The older man, who was with his wife at the time, was about half a mile past the Fairy Pools on a popular footpath when the accident happened.
An air ambulance took him to Raigmore Hospital in Inverness where he was assessed for further damage to his internal organs. His condition was not known last night.
Both casualties were thought to be tourists.
The accidents happened less than a mile apart.
Gerry Akroyd, of Skye Mountain Rescue Team, said: "The young man was jumping across the top of the Fairy Pools and a load of rocks and he slipped and plunged about 20ft down into the pool and banged his head on the way down.
"He is extremely lucky to be alive. He cannot remember any of it happening.
"The man who smashed his hip was in a lot of agony and had morphine, so it sounded pretty bad.
"These were not mountain rescues but it's just part and parcel of what we do. If someone needs help we go out and help them."
An ambulance service spokesman said: "The man in his 20s had minor head injuries and he was taken into Broadford Hospital as a precautionary check up.
"The man in his 40s was taken to Raigmore Hospital with a hip injury. It is not clear how serious it is but hip injuries can be quite nasty. He was conscious and breathing at the time."