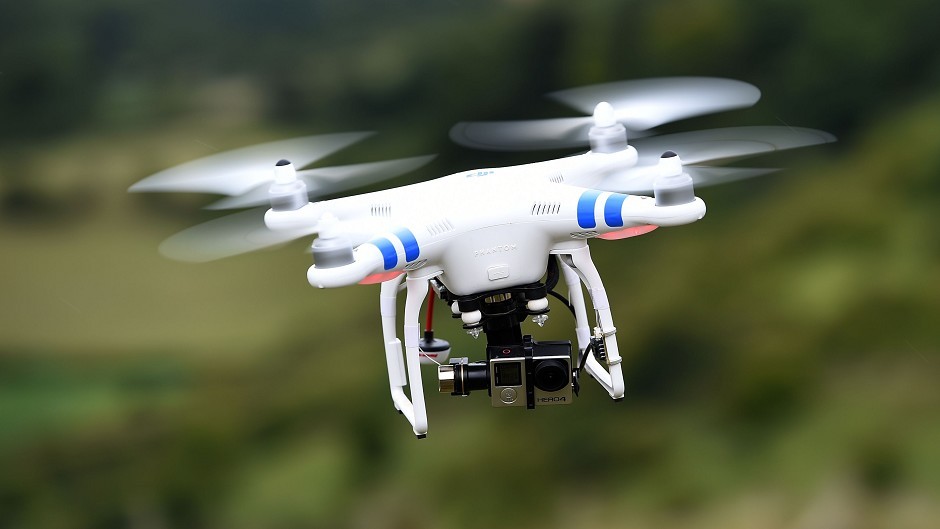 Police have been banned from using drones to help search for missing hillwalkers in the Highlands.
The unmanned flying machines were first used by the force to search for missing walker Eric Cyl in Lochaber this summer, and were hailed an "amazing" tool.
But last night, officers admitted the operation in the Mamores was a "one-off" – as bosses have banned officers from using the technology until they have drawn up a new "air strategy".
It means mountain rescue teams will have to foot the bill if they believe the equipment can help find stranded walkers.
The move emerged on the day that the force police faced fresh criticism for proposing to re-brand their uniforms and cars with Gaelic logos in an attempt to promote the language.
Last night photographers, rescuers and community leaders questioned the thinking behind the decision and suggested the police should be making use of all tools available to them when trying to save somebody's life.
Highlands and Islands MSP Mary Scanlon said Police Scotland would never earn respect if it continued to make "poor decisions" on where to focus resources.
She said "senseless bureaucracy" was getting in the way of saving people's lives.
"This is poor judgement and poor decision making at the top of Police Scotland," she said.
Nether Lochaber Community Council chairman, Iain Jenner, said he felt there was an "imbalance of priorities" at play.
"People are quite literally risking their lives on search and rescue operations," he said.
"If you can find a way to make rescues more efficient and safer for the people involved, that should be embraced."
Fort William and Ardnamurchan councillor Andrew Baxter said: "It's a shame that police are taking this position and are leaving it down to the mountain rescue teams.
"Drones save incurring a significant amount of risk for individuals trying to search difficult areas."
Photographer Liam Anderstrem, of Airborne Lens, provided aerial support during the search in the search for Mr Cyl in June.
He said: "I don't know why you wouldn't want to use the drones in mountain rescues.
"What we did for the police was just a voluntary thing, it was not commercial work.
"There is definitely value as part of a search and rescue operation, you can search areas where it is far too dangerous to put men or dogs into.
"I don't know why you wouldn't make use of that."
During the search for Mr Cyl, South Highland area commander Chief Inspector Colin Gough hailed the use of drones and said they could reach "inaccessible areas of the mountain range with no risk to personnel".
But last night Chief Superintendent Elaine Ferguson confirmed their use would not become the routine and said: "Police Scotland does not own any drones.
"However, we are currently working on our Air Strategy and the use of drones by the Force may be included in the strategy."
A spokeswoman for the force added that the use of drones in the search for Mr Cyl was a "one-off".
Last weekend, Glencoe Mountain Rescue Team used drones provided by locals to search remote areas for 69-year-old Robin Garton.
Team leader Andy Nelson said at the time that two volunteers had used the drones to help cover several areas which could not be seen from the larger search and rescue helicopters.
He said: "It's amazing the quality of the footage and stills you can get back.
"It also means we are getting into areas which would be dangerous and take a major effort to get men into.
"It's definitely something we'll be looking to invest in for ourselves at some point."
Simon Steer, chairman of Scottish Mountain Rescue, praised the use of the equipment last night but said there was still work to be done to secure their future use.
He said: "I think that the use of drones has proven to be useful but it's still at a very early stage.
"Mountain rescue teams will always use anything which can assist with a search operation.
"It's not something we'll be able to rely on though. Often drones will just not be compatible with the weather and conditions which mountain rescues happen in."