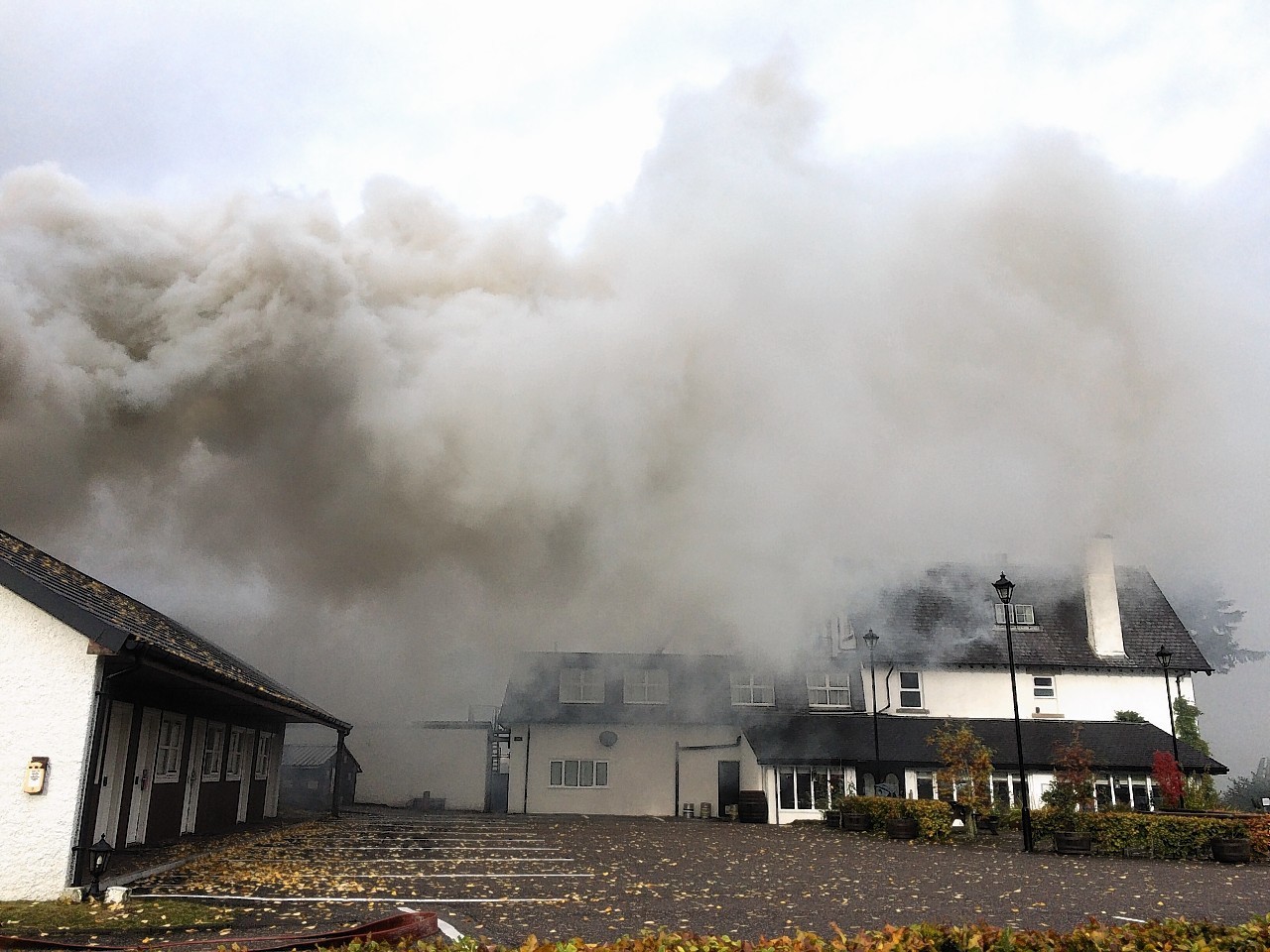 Villagers watched in horror yesterday as a Highland medical centre was destroyed by a ferocious blaze.
All appointments at the practice in Fort Augustus have been cancelled until further notice and patients could be left facing lengthy round-trips to get routine treatment.
The alarm was raised when smoke was seen billowing from the Cill Chuimein Medical Centre yesterday.
Fire crews from Fort Augustus, Drumnadrochit and Foyers spent most of the afternoon battling the blaze.
It took about three hours to bring it under control.
The two-storey building's roof collapsed but it was empty at the time and no one was injured in the incident.
Retired GP Dr Iain Farmer – who helped establish the practice in the building about 17 years ago – said it was "upsetting" to see it ravaged by fire.
NHS Highland said last night that the practice would be "closed until further notice" because of the damage and advised patients not to travel for booked appointments.
Health board officials and staff from the practice are due to meet this morning to discuss what to do next, with an update on services for patients expected to be issued later in the day.
Patients could be left facing a 63-mile round-trip to Fort William or a 37-mile journey to and from Drumnadrochit to receive medical help.
Dr Farmer said: "It's just so upsetting. It's been a part of my life for nearly 20 years and for it all to crumble like that in just a matter of hours is heartbreaking."
He retired from practice two years ago but still owns a share in the building with other partners.
He added: "We're going to have a meeting in the morning to try and work out what is best to be done temporarily."
Current practice partner Dr Jill Skeoch has also worked at the clinic for 17 years.
She said: "It's fortunate that nobody was in the building. We've got to start from scratch now.
"We've no equipment or communications but the health board know about it so we'll just need to have a good night's sleep and then see what we can get as an interim measure.
"There's the actual sadness of seeing the building go up, I've been there for 17 years and it has been a big part of our lives.
"There's also the pressing need to get something in place for the patients as quickly as possible."
Dr Skeoch also expressed her gratitude to the firefighters who tackled the fire throughout the afternoon, and also to the community who rallied round to support the effort.
Volunteers at the nearby church hall made teas, coffees, soup and sandwiches for the firefighters and staff from the medical practice.
A spokesman for the fire brigade said crews had used two jets to tackle the blaze.
It was reported shortly before midday and was out just before 3.10pm, but firefighters remained at the scene afterwards to check for hotspots.
An NHS Highland spokeswoman said: "Due to fire damage the health centre in Fort Augustus will be closed until further notice. Patients should not turn up for any scheduled appointments.
"GP out-of-hours will be dealt with in Fort William as normal."
She added that a further update on the situation for patients would be issued today.
A spokesman for the police said officers were liaising with the fire service in connection with the incident.
A joint investigation into the cause of the blaze is expected to be launched.
A spokeswoman for the fire service said: "The health centre was 95% fire damaged, so pretty much destroyed, and 100% smoke and water damaged.
"We had crews from Fort Augustus, Foyers, Drumnadrochit and also the aerial platform from Inverness all attending.
"They used two hose jets and two hose reel jets, four pieces of breathing apparatus and one additional jet from the platform.
"We got the call at 11.47am. The message that the fire was under control was at 3.09pm. Our crews returned to their stations at 7.15pm."