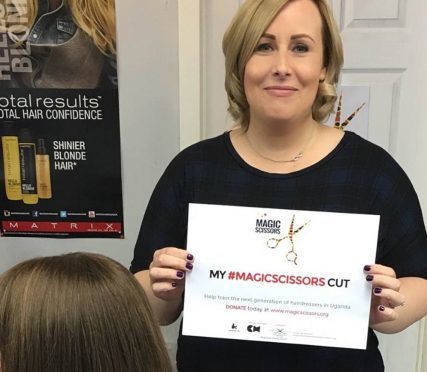 An Oban stylist has taken part in a project to help train the next generation of hairdressers in Uganda.
The Magic Scissors campaign sees stylists from all over the country donating their fee from one haircut to help train young people in Africa and give them a route out of poverty.
Clare Pearson, who runs Ash Hairdressing on Combie Street, was delighted to join big names in the hairdressing world including Errol Douglas, Hooker and Young, Jamie Stevens, and Tony Wood Hair, in taking part in the scheme.
The eponymous magic scissors travelled all over the UK. The scheme is simple, with stylists cutting someone's hair using them and donating their fee to the Lessons for Life Foundation, encouraging the client to make a donation too.
The money raised is going towards supporting the Timeline hairdressing project in Uganda.
Ms Pearson said: "We take education for granted, but the people of Uganda do not have education easily available to them.
"I feel very strongly about education, especially in hairdressing as you have to constantly improve your services to keep on top of your game."
Prisca, one of the students at the Timeline programme in Wakiso District, Uganda, spoke about why the course means so much to her. She said: "The best thing is that I am learning what I love doing most. I lost my mother when I was five years old and since then, life has been very hard.
"Without this course, I would be digging in order to earn a living and life would be very different.
"Learning to be a hairdresser means that I can make money and support my family. My father can't get a job and, because of that, three of my siblings have had to drop out of school as he can't afford the fees.
"I can't imagine how difficult life would be without Lessons for Life's help."
After selling her Leeds salon in 2012 and moving to Oban, Ms Pearson worked as a self-employed stylist and a hairdressing tutor at Argyll College and decided this year it was time to open another salon.
It has been a successful period for Ms Pearson and Ash Hairdressing, which won Best Service at The Scottish Hair and Beauty Awards.
"She was also a finalist in the Women's Stylist of the Year 2015.