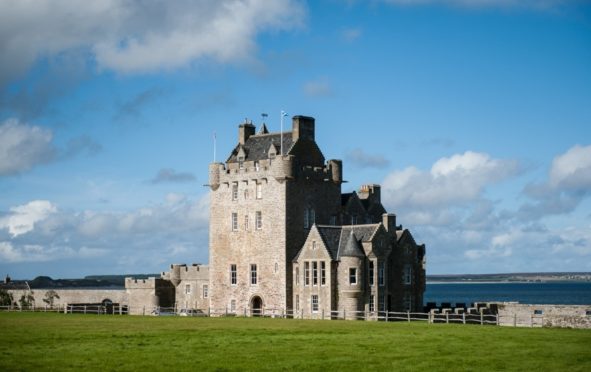 A luxury Highland hideaway has been put on the market with a price tag of offers over £4.5million.
Ackergill Tower near Wick in Caithness is a popular retreat for celebrities and is fully refurbished with 17 bedrooms plus 30 acres of gardens and several cottages.
The 15th century building recently hosted the cast from The Only Way Is Essex as part of the popular TV show's Christmas special episode.
Scotland's largest tree house is also nestled within the branches of a 150-year-old sycamore in the grounds of the estate and is included in the sale.
The traditional wooden tree house is built on two levels and has electricity, running water, a kitchen, a circular bath and a round bedroom, with windows and a skylight to gaze at the stars.
It was opened in 2002 by Prince Charles, who visits the area to stay at the historic Castle of Mey.
A recent £46,000 refurbishment transformed the tree house into a luxury bridal suite.
Alistair Letham, of estate agent Colliers International, said: "Ackergill Tower is in a spectacular location near John O' Groats in the Highlands of Scotland and its coastal position overlooking the glorious sandy beach of Sinclairs' Bay adds to the appeal.
"It's an unusually spacious and frankly quite unique one-bedroom tree house suite, where the bedroom and bed are circular.
"Season depending, the trees will be in bloom, and flowers will be growing up around it. The location is spectacular."
The estate also comes with a 15-year lease for shooting and fishing rights on 3,000 acres of nearby land.
The original Ackergill Tower is thought to date from 1475 and the property was extended in the 19th century. It was rarely used for about 100 years but was restored in the 1980s.
The building is now operated as a five-star hotel by Amazing Venues, and is located about 15 miles from John O' Groats.
Ackergill Tower has been a retreat for celebrities such as Sir Richard Branson, Billy Connolly and Philip Schofield. Mr Schofield named it as one of the places he would spend his dream 24 hours.
The A-listed castle has also played host to Hollywood veterans such as Jack Nicholson and Michael Douglas, as well as British celebrities Twiggy and Jeremy Irons.