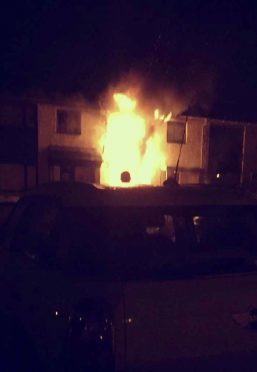 Donations have been pouring in from a north community to a young family who were forced to flee their home as it was engulfed by fire in the middle of the night.
A television, new beds, kitchen appliances and clothes are among the items that have been given to Lesley-anne Ross and her three young children in the past 48 hours.
Yesterday friends and family of the 30-year-old passed on a message of thanks from the family.
Ms Ross, her children and boyfriend William Williamson all managed to escape from the burning building just before its windows blew out shortly after 2am on Boxing day.
The house in Invergordon's Inverbreakie Drive was almost completely destroyed by the blaze. They had only moved into the house about five weeks before.
A family who live in the same street took them in and gave them shelter after they had made their escape.
Several donations have since been made after friends and family posted their appeals in the online "buy, swap and sell" groups in Invergordon, Alness and Tain.
Ms Ross's sister Jacqueline Marshall, friend Candice Bolton and former sister-in-law Alanna Ross have been heavily involved in the donation appeals.
Yesterday Mrs Ross, who also lives in Inverbreakie Drive, said on behalf of Ms Ross and the family: "We have had so many donations and we just want to say thank you and say how grateful we all are. The number of people who have stepped forward in the last 48 hours is astonishing and we are truly touched and completely overwhelmed by everyone's donations.
"It has been a huge community effort from people in the Inverbreakie and Invergordon area. For complete strangers to take people in and give them shelter is really humbling.
"We are talking about people from Nairn up to Embo and Brora. The generosity of people has been absolutely astounding.
"We have had all kinds of household goods, particularly white good for the kitchen. We have had everything from beds, furniture and clothes for the kids.
"What happened is going to be an image that sticks with the family and neighbours for a while – it was devastating. We now want to focus on rebuilding the kids' lives."
Mrs Ross added that the family wanted to reinforce the message that everyone should check their smoke alarms are in working order, as this was vital to them coming out alive.