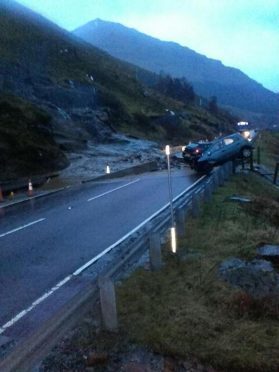 A woman caught up in a landslide said last night she feels "lucky to be alive".
Jane Else was driving through along the A83 when about 200 to 300 tonnes of debris was washed down the hillside at the Rest and Be Thankful.
Another car was also caught up in the terrifying wash-out, although luckily neither suffered serious injuries.
Last night Mrs Else, of Lochgilphead, was recovering at home after being released from the Royal Alexandra Hospital in Paisley suffering from a broken sternum.
Mrs Else was driving to Glasgow to collect a friend from the airport when the incident happened at about 7.30pm on Wednesday.
She said: "I'm aching. But I'm a very lucky lady. I saw the picture of the car and it frightened me. But the main thing is that I am here.
"It is a happy new year because I am alive."
Bear Scotland worked throughout Wednesday to clear the scene, and said the debris had been dislodged by the heavy rain.
The road reopened on Thursday afternoon after the clear-up operation and investigations.
A spokeswoman for road maintenance company Bear Scotland said: "The A83 Tarbet to Campbeltown route reopened after a 200 tonne landslip caused by Storm Frank closed the road in both
directions on Wednesday morning.
"The debris has been removed from the carriageway and the debris protection fences have been repaired and reinstated by geotechnical teams. Geotechnical experts have assessed the slope for safety and the road has since been reopened.
"For safety, temporary traffic lights will remain in place until full repairs to the fencing and barriers can be completed.
"Approximately 90mm (3.5ins) of rain fell in the area over 24 hours during Storm Frank.
"The slip occurred just south of the B828 junction above the location of the previous slip on December 5. Geo-technical experts have estimated that the slip occurred some 200m (656ft) above the carriageway.
"Although Storm Frank has passed our control room monitors conditions across the network 24/7."