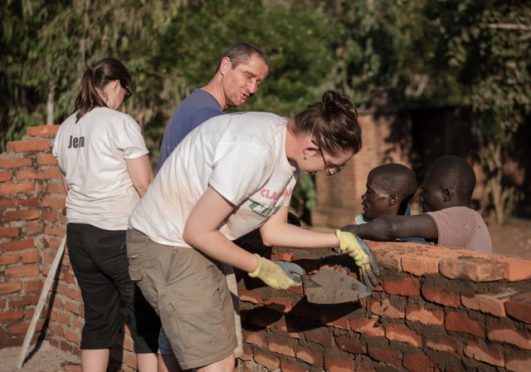 They had already given their lives to teaching in this country – and then they decided to take a more hands-on approach to education.
A couple have enlisted the help of a Highland firm to rebuild a rural school in Malawi which was hit by severe flooding.
The project is underway to rebuild the rural primary school located on the outskirts of the city of Blantyre, Malawi, after it was ruined by flooding last summer.
Sarah Aitken, 29, a technical teacher from Grant Road, Balloch, outside Inverness, and her partner John Niven, 26, a primary school teacher from Glasgow, travelled to Malawi in the summer.
They worked on the project with the Scottish charity Classrooms for Malawi.
And after a call for help from the couple, city firm Caley Timber and Building Supplies Limited provided £5,000 towards the rebuild.
Miss Aitken said: "Classrooms for Malawi is run entirely by volunteers and the funds needed to complete the projects are raised by the team and individual donations. John and I got in touch with Caley Timber to see if they would be interested in helping."
The two teachers, who arrived home in August, were among a team of 16 volunteers who travelled to Malawi at the end of June last year and, in just two weeks, helped build three new classrooms and renovated a further six existing classrooms at Michiru Primary School; plastering, painting and building alongside workers from the local community.
Classrooms for Malawi believe that education is the best route out of poverty and, by liaising with the local education department in Malawi, identify the schools in greatest need of help.
Mr Niven said: "Nothing could have prepared me for what I found in Malawi. I had seen loads of pictures before I went and spoke to people who had been before but I was totally lost for words when I arrived. The level of poverty and lack of resources in the rural communities was a real shock to the system."
Michiru Primary School, which housed only six classrooms for over 1700 learners, had become unsafe and not fit-for-purpose, due to decay and severe damage caused by flooding which displaced more than 100,000 people last year.
Mr Niven added: "The welcome we received was absolutely phenomenal – totally overwhelming.
"Thanks to the support of Caley Timber, hundreds of children in this community will be taught in bright, colourful and safe classrooms. Until now, many of the children were taught under trees or in unsafe, crumbling classes."