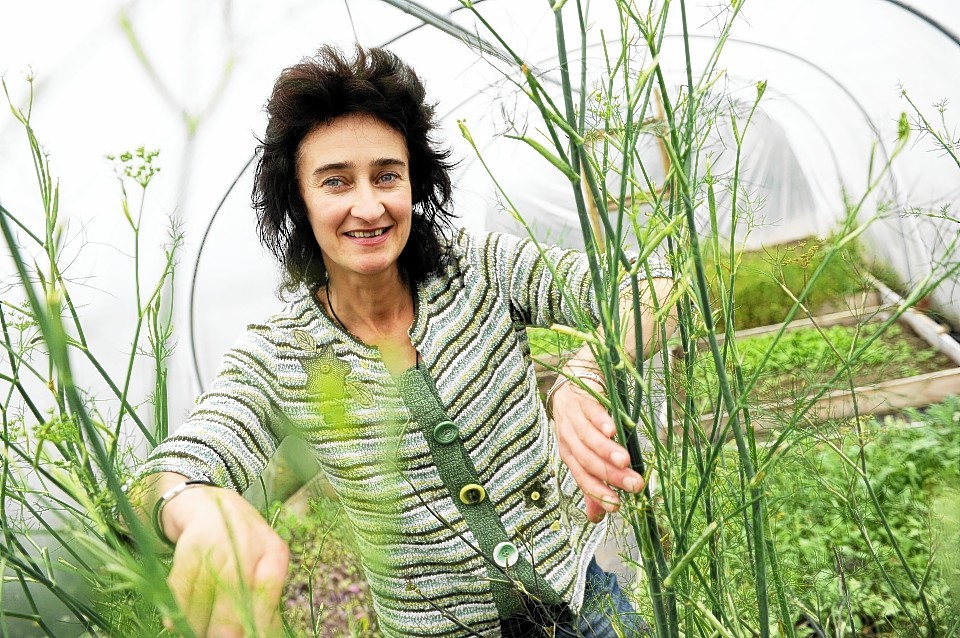 Each week, we ask small businesses some key questions. This time we speak to Michelle Bowley, who along with her partner David Herbert, owns Saladworx in Dornoch
How and why did you start in business?
Originally from Devon, I had spent a number of years as a senior manager, both training and developing people and developing organisations including the NHS, local authorities, financial services, airlines and manufacturers when I met my partner, David, a self employed Devon dairy farmer. Our first child followed and that was it. I wanted a complete change – the chance to give up the rat race and become a full time mother in the Scottish Highlands.
We moved to Lairg, Sutherland, in 2002, and then to Dornoch the following year and, being country people, we started growing our own vegetables. We gave some surplus salad leaves to an elderly neighbour who suggested that we sell them in a local shop. They sold like hotcakes and a local wholesaler introduced them to The Carnegie Club at Skibo Castle, our first direct foodservice customer. And so it was that full-time motherhood ended and self employment as a director of Saladworx began.
How did you get to where you are today?
By giving the businesses everything that we've got and never losing sight of the overall vision.
Having developed a fantastic salad product we then had to develop the business. Over the past two years we have introduced many new products, including our 12 varieties of unique dressings, each one requiring a vast amount of development work before launching. Also, by 2011 we were growing 100 unusual, tasty and attractive leaf varieties, and our DRESS ME UP! fine salad had taken off.
In addition to Skibo Castle, Saladworx can count Albert Roux, James Martin and other well known chefs as regular customers, and our Fine Highland Salad was the Overall Product of the Year at the 2011 Scotland Food & Drink Excellence Awards – the highest possible accolade.
Finally, I want to give something back so I'm also accredited to run the Scottish Young Farmer Training Programme.
Who helped you?
The University of Abertay's Food Innovation Department helped us develop our early dressings and we were also helped by the teams of the tasters that are essential to new product development. Family members have all been very supportive and are all immensely proud, and the Federation of Small Businesses is there when you need it and it also provides numerous snippets of useful information to businesses like ours.
What has been your biggest mistake?
Being overly confident and optimistic, running before we could walk, and employing too many staff all at the same time. Also, taking on too much work rather than pacing ourselves. Giving 200% all the time takes its toll!
What was your greatest achievement?
Aside from overcoming our greatest mistakes it has to be winning our numerous awards and constructing the bespoke production and packing building on the farm.
If you were in power in Government, what would you change?
Improve the support for micro businesses. Self-employment can be a lonely place when one is used to being part of a big team and to suddenly finding oneself responsible for all business functions can come as a shock. Improved support would help.
What do you still hope to achieve?
To continue to grow the business and increase our export sales. Ultimately, to have a business to hand over to our kids, should they want it after their studies.
What do you do to relax?
We spend time with our three children, four ponies and three dogs on the farm, getting out and about whenever we can. I don't work weekends anymore and I've stopped the crazy 20 to 24-hour office shifts.
What are you currently reading, listening to or glued to on the TV?
No time. I've waded through a couple of large history books and books on personal development in recent years, reading a few pages at a time, but I prefer listening to my children reading to me.
What do you waste your money on?
It is much too hard to earn money nowadays to waste it, but in my salaried days I "invested" in retail therapy, and clothes matter in that office world.
How would your friends describe you?
Focussed, fair and someone who does not suffer fools gladly.
What would your enemies say about you?
I don't care – none of it would be true, would it?
What do you drive and dream of driving?
I've had sports cars and other very nice cars in the past but I've finished with that game. A vehicle has to be practical so our new crew van suits us just fine.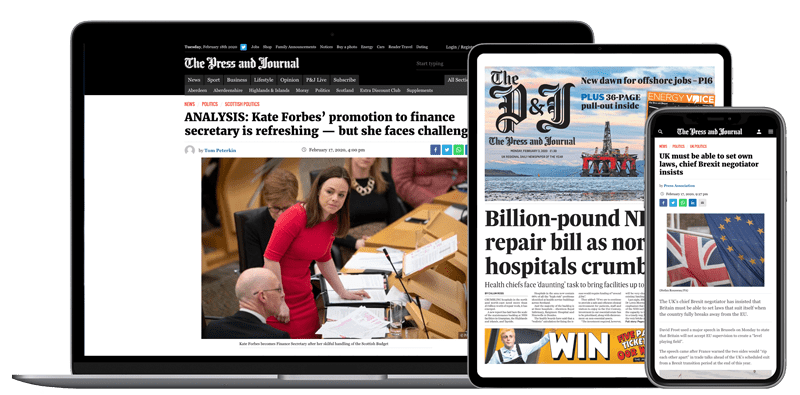 Help support quality local journalism … become a digital subscriber to The Press and Journal
For as little as £5.99 a month you can access all of our content, including Premium articles.
Subscribe