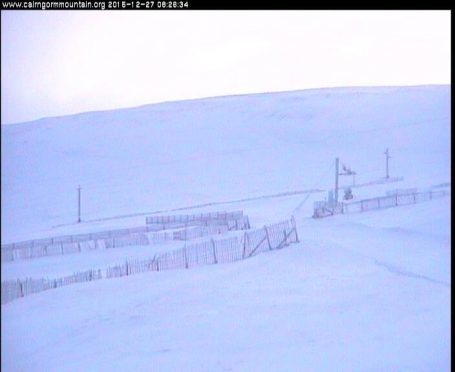 Severe gales in the mountains caused disruption for snowsports enthusiasts yesterday, as the Met Office revealed an unseasonably mild forecast across the Highlands this weekend.
Temperatures are expected to reach 13C in the Inverness area tomorrow, while further east the mercury may rise to 14C in Lossiemouth and Kinloss.
Yesterday skii-ers and snowboarders planning trips to Cairngorm Mountain were left disappointed after winds of 70mph cancelled a day of fun.
Strong winds are forecast to continue on the slopes today and the situation will be reviewed at 7.30am.
Yesterday, half of Caledonian MacBrayne's ferries were also disrupted at some point, with sailings to Eriskay, Harris, Iona and the Uists all cancelled.
Motorists in Inverness were also warned as the winds strengthened into the evening, resulting in restrictions to both lanes on the Kessock Bridge.
Drivers on the Skye Bridge were also affected for an hour from about 1pm due to the high winds.
Met Office forecaster Ian Robinson said: "Over the mountains the wind was very strong. In lower lying areas, the strongest winds are towards the Outer Hebrides with a touch of severe gales with gusts reaching up to 60mph.
"Overnight into Saturday, showers will become increasingly confined to the far northwest Highlands and winds should ease overnight.
"On Saturday much of the northwest Highlands will be cloudy with some rain. Certainly Inverness area and up to Caithness will be far brighter, with temperatures reaching 9C.
"On Sunday, a band of rain will move northeast across the northwest Higlands and milder air will come in. It will be heavy and persistent rain but won't last too long. Temperatures in the west will be about 11C.
"Towards Inverness it will be much brightere and you are looking at temperatures of about 13C. Going out towards Kinloss and Lossiemouth it looks like it might get up to about 14C. Further north in Orkney it will be about 9C or 10C."