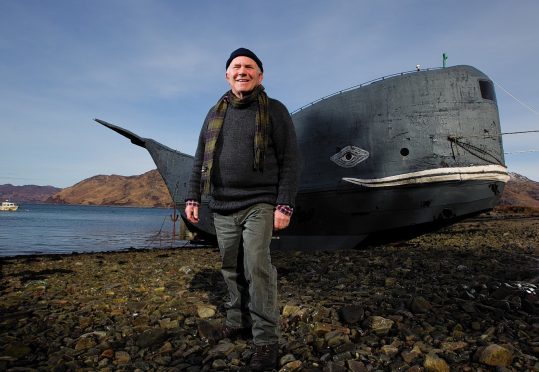 A Highlander plans to sail across the Atlantic in a 65ft steel sperm whale which has taken him 20 years to build.
Former SAS trooper Tom McClean, 73, lives by the beach on a remote part of the Knoydart peninsula only accessible by boat or a gruelling seven-mile hike.
He has named his creation, which sits on the shore of Loch Nevis, Moby.
Mr McLean oversaw the building project, which started 20 years ago, from scratch.
He estimates he has spent £100,000 in total bringing the sea monster to life.
But the vessel hasn't moved for three years, and the only journeys before that were short jaunts across the west coast.
Now Mr McClean is gearing up for the adventure of a lifetime as he prepares Moby for a 3,000 mile crossing of the north Atlantic.
He said: "It's unlike anything I've ever done before and it has been a long time coming.
"Arriving to a huge crowd will be an unbelievable swan song and my crowning achievement."
First he must get Moby back into ship-shape condition. The massive 62-tonne beast currently has moss growing on the peeling paint covering its three quarter inch thick hull and a leaky seal near the rudder flooding the kitchen.
Mr McClean, who also runs a successful outward bound centre, plans to refit the boat with new electric motors to replace the reliable but noisy and smelly diesel ones.
He also plans to completely redo the interior, which has a bridge, lounge, and bunks for a crew of 10.
A touch of luxury is also in the pipeline, with plans for a new bath complete with golds taps.
Mr McClean holds several records for solo rowing and yachting voyages across the Atlantic.
He said: "I've learned to stick at things when other people might give up. It makes you feel alive to have a challenge, not just working to pay the bills."
The former soldier joined the Parachute Regiment at 17, after being brought up in an orphanage. He had six years of action in Borneo, Aden and Malaya and was one of only three in 105 to pass the gruelling selection course for the elite SAS.