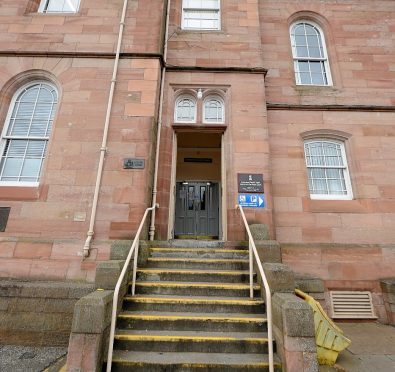 A 39-year-old Grantown-on-Spey man who set fire to his bedsit on the day he was due to be evicted will be sentenced next month.
At Inverness Sheriff Court yesterday, Christopher Harris, who was described as an Inverness prisoner admitted, on indictment, that he wilfully set fire to 75a High Street, on December 17 by igniting a pile of newspapers placed on the floor within the cupboard housing the electrical supply , then placed books and papers on the electric cooker and turned this on, damaging the property endangering other occupants of other properties within the building.
Fiscal Roderick Urquhart said Harris occupied a first floor local authority bedsit.
"He would go to bed about 4.00 p.m. most days and rising about 2.30 a.m. at which time he walks the same route visiting the beer gardens and smoking areas of local pubs and hotels to collect cigarette ends from ash trays.
"From these he obtains enough tobacco to last the day. He then walks past the local Co-op bins where he claims to collect out of date food that he uses during the rest of the day.
"Not surprisingly, he had been in arrears with his rent for some time and was in discussion with a local authority Housing Manager to attempt to repay the arrears and arrange for his stay at the bedsit to continue.
"A day or so before the offence he received a letter stating he was getting evicted from Thursday 17th December 2015. On receiving this letter he apparently became extremely annoyed and about 7.30 a.m. on that day he piled up paper and newspapers in various places in the flat and on the electric hob before turning all four rings on full.
"He then lit the pile of papers in the corner of his bedsitting room and left because the smoke began to affect his breathing.
"He locked the door behind him, left the keys in the lock and pinned a letter to the housing manager to the door."
Mr Urquhart said a passer by raised the alarm about 11.20 a.m and firefighters arrived at the address a short time later.
He added: "When asked about the affect this may have on the adjacent flats and the potential risk to life of the occupants, he said: "Everyone has to die some time, so why not now?"
"The estimated cost of the damage was between £40,000 and £50,000."
Harris will be sentenced on April 5 and he was remanded in custody.