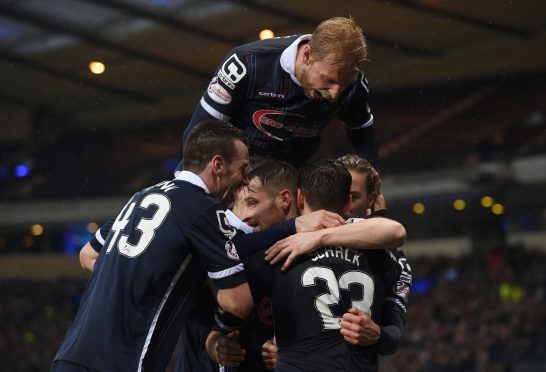 Dingwall is gearing up for a mass exodus tomorrow as thousands of expectant Ross County fans travel down the A9 to Glasgow for the club's League Cup final showdown with Hibs.
More than 50 buses are set to take supporters to the mach at Hampden Park on Sunday, with nearly 9,000 Staggies fans getting ready to attend the game.
Only 5,500 people live in the team's home town, although they garner support from throughout the Highlands.
Today, the Ross County team will be piped along Dingwall's High Street in an open-top bus as part of a big game send-off from their home fans.
Businesses in the Ross-shire town have been rallying behind their team by putting up colourful displays of flags, scarves and banners in their shop windows.
The staff at Dea's the Baker in Dingwall's High Street have made a special effort with their display scooping first prize in the club's Dress Your Shop for the Cup Final competition.
At the centre of their display sits a huge cake, decorated as a football pitch, and featuring miniature players in green and blue shirts, as well as goalposts and flags. Beside this are several Empire biscuits, shaped as team shirts and painted blue with every County player's name and number neatly piped on in icing.
Manager Anne Maclauchlan, who spent last Monday assembling the window display, said her team of bakers and confectioners have been making football-themed cakes all week to keep up with demand.
She added: "It was a real team effort and it has just been crazy this week. But it has been a great week for the town.
"It should be good tomorrow as we have the players coming down the street, so we're really hoping they will stop and come into the shop.
"I want Ross County to win 2-1. I will be watching the game on TV at home on Sunday."
Nearby, John Munro Butchers are also sporting a fine window display. Yesterday shop manager Kenny Gillanders said: "I will be at home watching the game. We have a good chance of beating Hibs and I think it will be 2-1 to County.
"Compared to where we used to be in the Highland League, we have come a long way and are doing well now. It's great for football in the Highlands."
A high-profile police operation will be mounted in Glasgow tomorrow to ensure there is no trouble or drunkenness around the city.
Senior officers have reminded fans that anyone drinking alcohol on the way to the game must do so responsibly, and that attempting to enter the stadium while drunk is a criminal offence.
Superintendent Mark Hargreaves, match commander, said: "We want to get supporters to and from the game safely, whilst ensuring minimum disruption to those who live, work and socialise in the city centre, as well as in and around the stadium.
"Our advice to fans is to know the route to the ground and get there in plenty of time – don't rush in at the end and add to any congestion."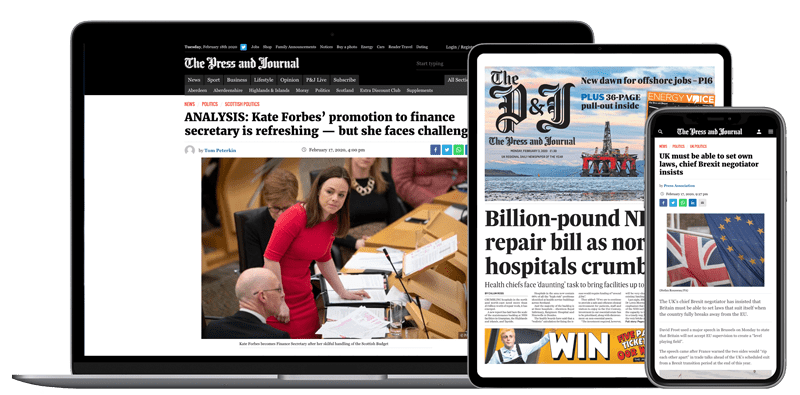 Help support quality local journalism … become a digital subscriber to The Press and Journal
For as little as £5.99 a month you can access all of our content, including Premium articles.
Subscribe