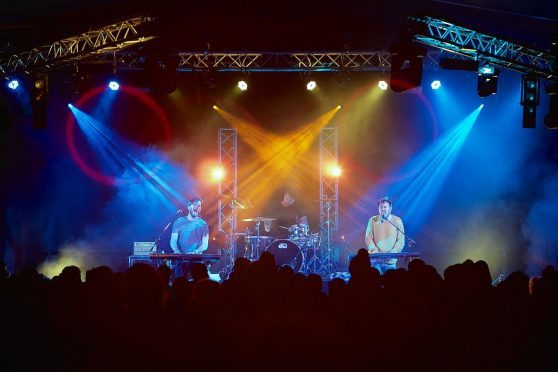 The UK's first mountain music festival rocked Aviemore at the weekend.
"Groove Cairngorm" saw skiers and boarders taking to the slopes on Cairngorm Mountain during the day, with music laid on at the Badaguish Outdoor Centre in the heart of Glenmore forest on Friday and Saturday night.
Grandmaster Flash headlined on Saturday night, bringing the crowd to a frenzy with a lively set.
Musical highlights throughout the weekend also included the Lafontaines, Hot Chip, the Cuban Brothers and DJ Yoda.
Party people from across the UK descended on Aviemore for the event.
Concerns had been raised prior to the festival about the possibility of disturbing rare capercaillie that live in the forest. The organisers were satisfied that measures took ensured the birds were undisturbed.
The open-sided sports hall at Badaguish proved to be a successful venue, with 1,100 people attending on the Friday night and 1,300 on the Saturday night.
Sam Barker, one of the organisers, said: "We had more than two-thirds of people doing both the snowboarding and the evening event.
"The feedback from the mountain was great. They said there was a good spread of people that weren't all regulars, a lot of people came from far afield.
"It all went unbelievably smoothly. The crowd were so well natured and good fun. The measures we put in place before the festival not to disturb the capercaillies all worked really well.
"You wouldn't have known there was a festival on, the trees acted as great noise insulation and half a mile down the track to the site, you couldn't hear the festival but you could hear the A9.
"We were overwhelmed by the support from everyone who came along this year and hopefully we will do it all again next year. The feedback has been really positive.
"Thank you to everyone who came and made it such a great event. It was so much fun to see the sports hall full of people partying all night long."