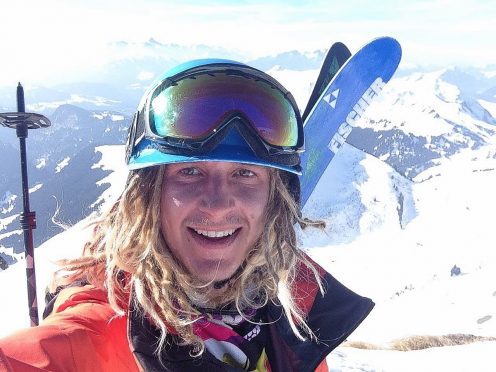 A daredevil north skier has been killed in an accident in the French Alps.
Aviemore-based Aaron McLean-Foreman was tutoring youngsters at the Avoriaz resort when the tragedy happened.
The exact circumstances of the accident, in the heart of the Portes du Soleil near the Swiss border, are still being pieced-together.
Twenty-six-year-old Mr McLean-Foreman was widely regarded as an "exceptional" ski coach.
He was educated in Edinburgh, learned to ski at the capital's Hillend plastic slope, and went on to become a co-founder of British Freeride, which specialises in off-piste snowsports.
The organisation said Mr McLean-Foreman was behind an inspirational award-winning short film about ski-ing, "Late", which was released last year.
He also competed in a Freeride World Tour.
Ski-ing's governing body, Snowsport Scotland, described him as "a talented skier, coach and man of great enthusiasm and infectious energy".
Fellow British Freeride founder and close friend, Rob Kingsland, broke the news of Mr McLean-Foreman's death to other enthusiasts online.
He described him as a "friend, amazing skier, and lover of the mountains and people".
He added: "I'm still trying to gather my thoughts, as I'm sure family, friends and the mountain community are.
"Our thoughts and sympathies go out to his family and close friends and we hope his legacy will live on through the continued activity of British Freeride.
Other friends paid tribute to Mr McLean-Foreman on social media.
Helen Trayfoot-Waugh said: "You will be missed by all, too young to go, so much to give. An inspirational skier and a beautiful person. The world is a lesser place without you."
Ali Mitchell said: "We are so totally heartbroken."
Jordan Temple remembered him as a great ski instructor "and awesome all-round guy".
Richy Taylor said he first met Mr McLean-Foreman in 2010 and there was "a kindred connection between us from day one".
He remembered him as "a humble, caring, energised human being" who "inspired others to step out of their comfort zone".
And Cat Mackinnon said: "This is so sad, such a horrible reminder that life is so fragile and to hold the ones dear to you close. He looked like he lived his life to the full."
An investigation is still being carried out into Thursday's accident in the Alps.
Mr McLean's father had recently built a family home at Pityoulish near Aviemore.