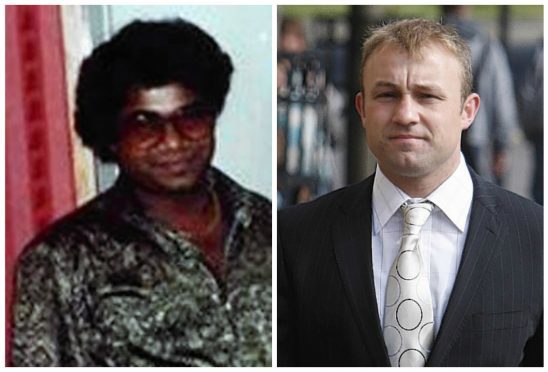 Supporters of a former Inverness soldier, jailed for killing an Orkney waiter, claim police dismissed a diary belonging to the murder victim that may contain clues to prove his innocence.
Michael Ross was found guilty of shooting a Bangladeshi waiter in one of Scotland's most notorious murder cases.
The 1994 shooting of waiter Shamsuddin Mahmood, in the Mumutaz Restaurant in Kirkwall, by a man wearing a balaclava, was said to be racially-motivated.
Ross was just 15 years old at the time of the incident and the former Black Watch platoon sergeant, who was convicted in 2008, has always denied the murder.
He is currently serving a minimum 25 years at Shotts Prison.
Now, Justice for Michael Ross campaigners have launched a new website, j4mr.com, in a bid to highlight new information that they claim could help quash Ross's conviction.
Details have been published on the website, including a claim that police have lost a diary belonging to Mr Mahmood that was apparently passed to them by one of his friends.
Ross's supporters believe the journal, which is not listed in official paperwork, may hold clues to the victim's death.
They say they have discovered that Mr Mahmood may have known his safety was under threat from someone else, as a number of witnesses told police he seemed uneasy and preoccupied in the weeks before his murder.
In a message from prison, 37-year-old Ross thanked his supporters for setting up the site, adding: "I am really grateful to everyone who is giving up their time to help me.
"I have little faith in the legal system, but the support I continue to receive is overwhelming."
Justice for Michael Ross believes the journal could be a vital piece of evidence among a raft of concerns about Ross's conviction detailed in submissions to the Scottish Criminal Cases Review Commission, which investigates possible miscarriages of justice.
However, in a letter responding to the campaigners' criticism, the Commission said: "We consider that we undertook the investigations that were necessary and appropriate to our thorough review of the case."
A spokesman for the SCCRC declined to comment further on their review or be drawn on the matter of the diary.
Police Scotland also declined to comment directly on the diary issue.