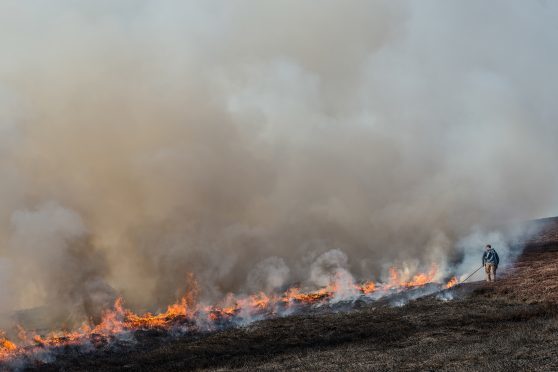 Sporting estates and gamekeepers have launched an awareness campaign explaining why the north's heather-clad hills are burning.
The controlled fires – known as muirburning – are lit annually between October 1 and April 15, although most activity takes place during the spring.
Gamekeepers say the burning is necessary to protect habitat for different bird species and help keep the heather's distinctive purple colour.
It also helps prevent the spread of wildfires.
However, it frequently raises questions about why parts of the country's moorlands are ablaze.
Estates have launched a campaign – dubbed Heather on FireOK! – to explain the practice.
Iain Hepburn is head gamekeeper at Dunmaglass Estates south of Inverness, and is also a part-time fireman.
He said: "We keep the fires under control and one of the biggest challenges we face in the countryside is combating wildfires.
"Controlled burning helps hugely in preventing the spread of wildfires and there is an army of gamekeepers on estates across Scotland who work together to stop wildfires which are a real problem in the summer months."
The campaign will include a social media element with videos showing muirburning in action.
Hans McKenzie Wilson, a head gamekeeper on the Invercauld Estate in Aberdeenshire, compared the practice to mowing a lawn to keep the grass healthy.
He said: "It's vital we get the message across to the public that setting the heather on fire is ok.
"If we don't use the heather we will lose it and that would be a tragedy for everyone.
"Our purple heather is the landscape that people from all over the world adore.
"Grouse thrive in this habitat and so do a host of other bird species – especially curlew, lapwing and golden plover, which are worryingly low in numbers these days.
"As every gardener will know you have to cut your lawn to keep the grass healthy, and that's what we do with heather."