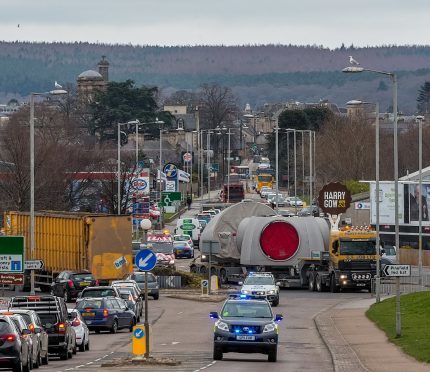 A trial run in advance of the movement of 33 giant turbines from Inverness harbour along the A9 will take place tomorrow.
SSE will carry out the operation ahead of the construction of their Dunmaglass Windfarm, which is 15 miles south of Inverness.
The trial run has been planned as the prelude to six months of movements to supply turbine parts to the site.
The test involves running a vehicle with an extendable trailer that simulates the longest turbine component.
On the return journey from the site, the trailer will be closed up and will be no larger than a standard HGV.
The trial run will begin at Inverness Harbour at around 10am and will join the A9 Inverness to Perth road at Longman Roundabout.
It is expected the convoy will turn off towards the B851 Daviot to Fort Augustus road at approximately 10.30am, arriving at the site entrance at roughly 1pm.
Jamie Meneely, project manager for SSE, said: "This marks a significant point in the project as it gives us the opportunity to ensure that the turbine deliveries will take place smoothly.
"Although the delivery vehicle will be slow-moving, the police escort will ensure that this is done safely and with the minimum of disruption to other road users.
"The turbine deliveries, which are currently expected to commence within the next few weeks, will take around six months."
Dunmaglass was originally developed by RES [Renewable Energy Systems] before being acquired by SSE. It involves 33 turbines, each standing 393ft in height.
Previous trials of the movement of turbines components have already been carried out.